Defense secretary orders changes after review of Fort Hood shooting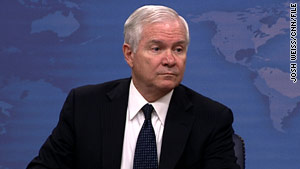 Workplace violence education is among the changes ordered by Defense Secretary Robert Gates.
STORY HIGHLIGHTS
Final "Lessons Learned" review of the incident is released
Gates urges high priority on implementing the review's recommendations
Included are educating commanders, more sharing of information and enhanced 911
Washington (CNN) -- Defense Secretary Robert Gates is ordering a number of changes to address problems discovered by a review of the military after the deadly shooting at Fort Hood Army Post last November.
Thirteen people died in the shooting at the sprawling base in central Texas. Army psychiatrist Maj. Nidal Hasan is charged in the case. He has not yet entered a plea.
After the shooting, a number of investigations and reviews were launched. One of the reviews focused on the lessons learned from the incident. In April, after releasing a preliminary report from the review, Gates implemented some two dozen of the recommendations. Friday he released the final "Lessons Learned" review and ordered implementation of most of the other recommendations from that review.
"The tragic shooting of U.S. military personnel at Fort Hood in November 2009 underscored the need for the [Department of Defense] to thoroughly review its approach to force protection," Gates wrote in a memo attached to Friday's release.
Among the new recommendations being implemented are:
• A plan to educate commanders about the symptoms of potential workplace violence and the tools they can use to address it.
• Improving the sharing of law enforcement and force protection information with appropriate agencies and installations.
• Enabling enhanced 911 systems on military installations so that when a caller reports an emergency, the dispatcher automatically gets information about the caller's location.
Gates wants the new plans and systems in place very soon. "I expect department leaders to place great priority on implementing these recommendations." he wrote.
FOLLOW THIS TOPIC