White House downplays combat brigade pullout in Iraq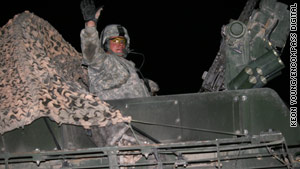 The last U.S. brigade combat team crossed the border into Kuwait Wednesday.
STORY HIGHLIGHTS
4th Stryker Brigade, 2nd Division is last U.S. brigade combat team out of Iraq
White House officials were caught off guard by questions of the event's significance
White House spokesman: Event "doesn't mean the mission has ended early"
President's comments about drawdown may have added to confusion
(CNN) -- With broadcast reports and pictures Wednesday evening celebrating the last U.S. brigade combat team leaving Iraq and crossing the border into Kuwait, the White House and Pentagon scrambled to explain that the war in Iraq is not over.
With the August 31 deadline for withdrawing U.S. combat troops fast approaching, administration officials were caught off guard by the onslaught of questions about the moment's significance.
The broadcast pictures were of a convoy of service members from the 4th Stryker Brigade, 2nd Infantry Division leaving Iraq.
White House spokesman Tommy Vietor said Thursday, "it was an extraordinary moment. The men and women in this brigade and all others serving tours of duty in Iraq deserve our sincerest thanks for their enormous sacrifice. But this brigade leaving doesn't mean the mission has ended early. Operation Iraqi Freedom ends August 31, and on September 1 we transition to Operation New Dawn."
Operation New Dawn is the official name for the new U.S. mission in Iraq. Those remaining U.S. forces will take on a new advise-and-assist role.
Pentagon Spokesman Bryan Whitman told CNN Wednesday, "I have daily conversations with Iraq to talk about important issues -- they never mentioned that there was anything significant about what's been happening this evening."
Adding to the confusion about the significance of the brigade's departure, earlier in the day at fundraisers in Columbus, Ohio, and Miami, Florida, President Barack Obama made two separate on-camera statements pledging to fulfill his campaign promise of bringing the Iraq war to a responsible and swift end.
Wednesday afternoon, Obama released a letter on the White House website, whitehouse.gov, saying "Today, I'm pleased to report that -- thanks to the extraordinary service of our troops and civilians in Iraq -- our combat mission will end this month, and we will complete a substantial drawdown of our troops."
Vietor said none of the president's statements were meant to foreshadow or give any particular weight to the 4th Stryker Brigade's departure, which happened later that evening.