Pentagon: Not working with WikiLeaks, just want documents back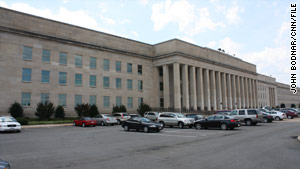 The Pentagon has no interest in negotiating "any sort of minimization ... of classified documents," a spokesman said.
STORY HIGHLIGHTS
WikiLeaks has said it plans to post thousands more leaked documents
A Pentagon spokesman denies that the Army is willing to work with the website
A report said the Army might work with WikiLeaks to review leaked documents
The Pentagon spokesman says government's message is the same: Give the documents back
Washington (CNN) -- A Pentagon spokesman denied a report out Wednesday that the Army is willing to consider working with WikiLeaks to review classified documents that were leaked and will soon be posted online by the website.
"The department has not had any direct contact with WikiLeaks on this matter. Our position has been consistent and clear, and that is that these documents should be returned, there should be no further posting of these classified documents. And that those that have been posted should be removed," said Pentagon spokesman Bryan Whitman.
He said that the only indirect contact has been from WikiLeaks to the Defense Department through journalists.
"We have all seen attempts through the media to act as intermediaries but the government -- the Defense Department -- has had no direct contact with WikiLeaks," Whitman said.
He said aside from the issue of contact with Wikileaks, the department has not changed its position on the 15,000 still unreleased documents. "We are not interested in negotiating any sort of minimization or sanitized version of classified documents," he said.
Whitman also said the fepartment has a pretty good idea of what documents WikiLeaks has and that it's threatening to release. "We have a much better understanding of all of the documents, yes. But I'm not going to talk about them," he said.
FOLLOW THIS TOPIC