Sonic booms of fighter jets rattle Seattle area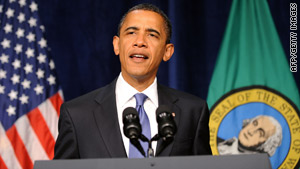 The F-15s were scrambled after a plane entered the restricted airspace near President Obama.
STORY HIGHLIGHTS
Dozens of western Washington residents reported feeling the rumblings
The jets were scrambled in response to a plane that entered restricted airspace
President Barack Obama was in the region Tuesday
The plane left the restricted airspace before it was intercepted
Read more on this story at CNN affiliate KIRO.
(CNN) -- Residents in Seattle, Washington, were shaken Tuesday afternoon by what sounded like explosions after two F-15s were dispatched in response to a report of a small plane that entered restricted airspace where President Barack Obama was campaigning for Sen. Patty Murray.
The rumblings -- caused by sonic booms from the jets -- rattled buildings, windows and nerves in the Puget Sound region, according to CNN affiliate KIRO. Viewers of the affiliate from as far away as Tacoma -- about 40 miles south of Seattle -- reported hearing the booms.
Dozens of residents called the city's 911 system, causing it to shut down in some areas for about an hour due to the flood of calls, Ed Troyer, a spokesman for the Pierce County Sheriff's Department told KIRO.
"Many house and car alarms have been set off that we will not be able to respond to," Troyer told the affiliate.
The jets were launched out of Portland, Oregon, and "were on afterburners the whole time," Allen Kenitzer of the Federal Aviation Administration told CNN.
The plane in question -- identified by the FAA as a Cessna 180 -- left the temporarily restricted airspace before the jets intercepted it, said John Cornelio of the North American Aerospace Defense Command (NORAD).
The pilot of the plane later landed it near Lake Washington, Kenitzer said.
The incident is under investigation.
CNN's Patrick Oppmann and Adam Levine contributed to this report.
FOLLOW THIS TOPIC