Guantanamo trial delayed after lawyer collapses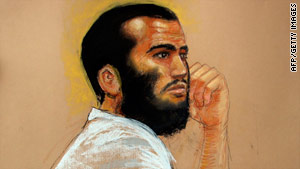 Canadian-born Omar Khadr, here in a sketch by a courtroom artist in April, is the youngest detainee at Guantanamo.
STORY HIGHLIGHTS
The military trial of Omar Khadr has been delayed at least one month
Khadr's trial is delayed because his attorney requires medical attention
Khadr's attorney collapsed during testimony on Thursday
Khadr is accused of killing Army Sgt. 1st Class Christopher Speer
Guantanamo Bay, Cuba (CNN) -- There will be at least a 30-day delay in the case of Guantanamo detainee Omar Khadr due to the need for medical attention for his defense attorney, according to a lawyer for the Office of Military Commissions.
Lt. Col. Jon Jackson, who collapsed during testimony on Thursday, was transported from Cuba for medical attention, Deputy Chief Counsel Lt. Col. Bryan Broyles said.
Jackson's collapse apparently is related to recent gall bladder surgery, and the seriousness of his condition is unknown, Broyles told CNN Thursday.
Jackson, the only lawyer representing Khadr in the court, was questioning a prosecution witness when he stopped, asked for water, then fell to one knee and then rolled to the floor.
Broyles said nothing has changed about the case -- except the the delay he announced Friday morning. "I expect as close to 30 days as possible, judging the health of Lt. Colonel Jackson, we'll be back here picking up right where we left off," Broyles said.
The panel of seven military officers that will act as a jury and decide Khadr's guilt or innocence will be informed Friday and instructed not to read or view any information on the trial or to discuss it with anyone.
Khadr was brought to the high security courthouse here at Guantanamo Friday morning and informed of the delay.
The military court viewed a 30-minute video Thursday that the government says shows the then-15-year-old Khadr helping to assemble and plant roadside bombs targeting American troops in Afghanistan.
The tape was discovered at the compound where Khadr was captured in 2002, a month after the firefight in which Khadr was seriously wounded and an American Special Forces soldier was killed.
The Canadian-born Khadr, now 23 and the youngest detainee at Guantanamo Naval Base in Cuba, is accused of killing Army Sgt. 1st Class Christopher Speer.
According to English subtitles added to the tape, one person of several seen on the tape, says, "Allah willing, we will get a good number of Americans." The video shows Khadr looking much younger than he appears in court now and beardless. There is no date on the tape.
Segments of the tape appear to show people assembling elements of roadside bombs from anti-tank mines and using a ax to bury them and detonation wires.
Only a limited number of journalists and other observers have been allowed in the courtroom. No recording of the proceedings is allowed.
Army Col. Pat Parrish, the military commission judge, has predicted the trial could take several weeks.
FOLLOW THIS TOPIC