Confusion surrounded approval of offshore oil platforms, panel finds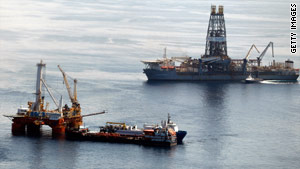 Cleanup vessels work in the aftermath of the Deepwater Horizon oil rig which expolded April 20 in the Gulf of Mexico.
STORY HIGHLIGHTS
Agency's inspectors misunderstood stamps placed on applications, official says
The problem is discovered during discussions of a panel looking into the BP disaster
"Not until this event had this come to light," says David Dykes
Washington (CNN) -- Federal inspectors responsible for offshore oil well safety sometimes mistakenly presumed that other agencies had fully certified that a proposed drilling platform was suitable for the job, officials discovered Thursday.
The revelation came up amid discussions among members of a panel convened to review the causes of the BP disaster in the Gulf of Mexico.
"Not until this event had this come to light," said David Dykes of the Bureau of Ocean Energy Management, Regulation and Enforcement.
The panel discussion included experts gathered by the independent National Research Council with the National Academy of Engineering. Dykes -- who is chief of the agency's office of safety management for field operations in the Gulf of Mexico region -- said two other agencies besides his are typically involved in reviewing whether the design and selection of equipment meets safety standards.
One of those agencies, the American Bureau of Shipping, uses special symbols or stamps on a certificate to indicate whether the drilling package itself has been deemed safe for conditions. Dykes said obtaining that stamp was optional in applications to the shipping bureau, but inspectors from his agency mistakenly assumed it meant the entire platform had been certified.
Dykes was speaking about the system of certification in general, and did not refer specifically to the Deepwater Horizon platform that exploded April 20, killing 11 workers, and sank two days later, creating the largest oil spill in U.S. history.
Michael Bromwich, the director of the Bureau of Ocean Energy Management, acknowledged federal drilling engineers over-relied on information from and the expertise of the oil industry to ensure compliance with safety standards.
The panel hopes to develop a two-part report on the BP disaster by late October, determining what went wrong and making recommendations on how to prevent such an event in the future.
FOLLOW THIS TOPIC


Oil disaster: Tracking the numbers
Part of complete coverage on

A number of organizations are recruiting volunteers to help clean up coastal areas

Get the numbers, see the images and learn how the worst U.S. oil spill has changed lives, ruined economies and more.

These stories help us look into the lives of the hardworking people of the Gulf as they watch this disaster take its toll.

Is your area being affected by the spill? Help CNN track the oil slick and its effects on Gulf Coast communities and wildlife


Most popular stories right now