Florida attorney general proposes immigration legislation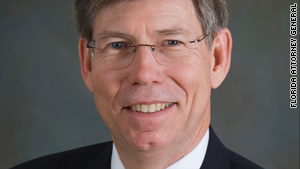 "Florida will not be a sanctuary state," Attorney General Bill McCollum said.
STORY HIGHLIGHTS
NEW: Immigrant-rights groups speak out against the proposed measure
Florida's attorney general proposes a new state immigration bill
The measure is similar to Arizona's law - it would require immigrants to furnish papers during legal stops
The legislation would also require businesses to make sure applicants are legally authorized to work in Florida
(CNN) -- Florida Attorney General Bill McCollum -- who is in the midst of an intense Republican primary fight for governor -- has proposed legislation aimed at curbing illegal immigration, according to a statement from his office.
Joined in Orlando, Florida, by legislators and law enforcement officials, McCollum unveiled the proposal Wednesday. It would require law enforcement officers to check suspected illegal immigrants' status in the course of a lawful stop. It would also require Florida businesses to use the E-Verify system to check that applicants are legally authorized to work and would enhance penalties for illegal aliens who commit crimes in Florida.
"This legislation will provide new enforcement tools for protecting our citizens and will help our state fight the ongoing problems created by illegal immigration," McCollum said in a statement. "Florida will not be a sanctuary state for illegal aliens."
State Rep. William Snyder, the chairman of the House Criminal and Civil Justice Policy Council, drafted the proposed bill with McCollum.
Like a measure in Arizona that's currently on hold in a federal court battle, the draft legislation requires immigrants to carry documentation or face a misdemeanor, which could mean 20 days in jail for the first offense. The proposal also makes it a misdemeanor for an illegal alien who is not authorized to work to try to get a job in the state of Florida.
The proposal goes a step further than Arizona's law, however, by giving judges and law enforcement more tools in dealing with illegal immigrants, the statement said. Under the proposed measure, judges would be allowed to specifically consider a defendant's unlawful presence while setting his or her bond.
The legislation also creates a sentencing enhancement so that illegal aliens who commit crimes in Florida would face increased prison time. This provision is similar to the gang statute that McCollum and Snyder worked to pass in 2008, which increases penalties for criminal gang members who commit crimes.
After parts of the Arizona law were blocked by a federal judge in late July, McCollum's office "made changes to the draft legislation to strengthen it against potential constitutional challenges," the statement said.
Immigrants-rights groups are speaking out against the proposed bill.
"Immigrant-rich Florida cannot afford a law that will create more confusion, legal challenges and expense for all Floridians," Cheryl Little, the executive director of the Florida Immigrant Advocacy Center, told CNN. "This bill would hurt our economy, public safety and individual rights. Why are they adding to the chaos instead of working on a realistic solution for our broken immigration system?"
"What is this bill going to fix?" asked Maria Rodriguez, the founding executive director of the Florida Immigrant Coalition. "It won't make the borders safer, it won't solve the foreclosure crisis; it won't get better-paying jobs for Floridians."
Rodriguez told CNN her group is "suspect about the motives of an un-American, unconstitutional" measure, and that no immigrant community appreciates laws that "mandate racial profiling."
"Immigrants have made progress for Florida. When immigrants get an opportunity, immigrants have made Florida prosper."
FOLLOW THIS TOPIC