U.S. to send imam in ground zero debate to Middle East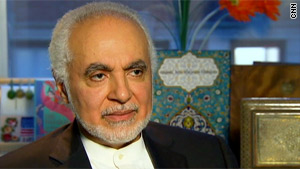 Feisal Abdul Rauf will visit Qatar, Bahrain, and the United Arab Emirates as part of his travels.
STORY HIGHLIGHTS
Imam has been on two other Middle East trips since 2007
Spokesman: No fundraising allowed by Feisal Abdul Raufon on trip
Trip is part of extensive State Department effort to send experts overseas
His mission is to explain life of practicing Muslims in the U.S.
(CNN) -- The imam at the center of efforts to build a Muslim community center near the site of the September 11, 2001, attacks in New York is going to the Middle East on the State Department's dime.
It's Imam Feisal Abdul Rauf's third trip to "discuss Muslim life in America and religious tolerance," State Department spokesman P.J. Crowley said Tuesday.
"We have a long-term relationship with him," Crowley said. "His work on tolerance and religious diversity is well-known, and he brings a moderate perspective to foreign audiences on what it's like to be a practicing Muslim in the United States."
Crowley said the imam's trip would take him to Qatar, Bahrain and the United Arab Emirates. His previous trips under the government program were in 2007 to Bahrain, the UAE, Qatar and Morocco and earlier this year to Egypt.
Crowley explained that the trip is one of about 1,200 similar programs of sending experts overseas.
"Last year we had, you know, 52 trips that were specifically focused on promoting religious tolerance," he said.
Crowley said the imam would not be allowed to do any fundraising on the trip.
FOLLOW THIS TOPIC