STORY HIGHLIGHTS
NEW: One 16-year-old girl is in serious condition
Two people are dead in a wreck involving two school buses and a semi
About 50 people were hurt
The wreck happened in Gray Summit, southwest of St. Louis
Read more about the crash from CNN affiliates KMOV, KTVI and KSDK.
(CNN) -- Two people were killed and as many as 50 injured Thursday in a wreck involving two school buses, a semi and an SUV about 40 miles outside of St. Louis, Missouri, authorities said.
Jorma Duran, a spokesman for the Missouri Department of Transportation, said the wreck happened between 10:15 a.m. and 10:30 a.m. at mile marker 250 of Interstate Highway 44.
Thirty-six of the children who had been on the buses were transported to the SSM Cardinal Glennon Children's Medical Center in St. Louis, a spokeswoman for that facility said.
Four others were taken to St. John's Mercy Hospital in Washington, Missouri, and five were transported to St. John's Mercy Medical Center in St. Louis, a spokesman for both hospitals said. Four of the children in St. Louis were treated and released, the spokesman said, and the other, a 16-year-old girl, was transferred by helicopter to St. John's Children's Hospital. The 16-year-old girl is in serious condition and her parents asked that her name not be released.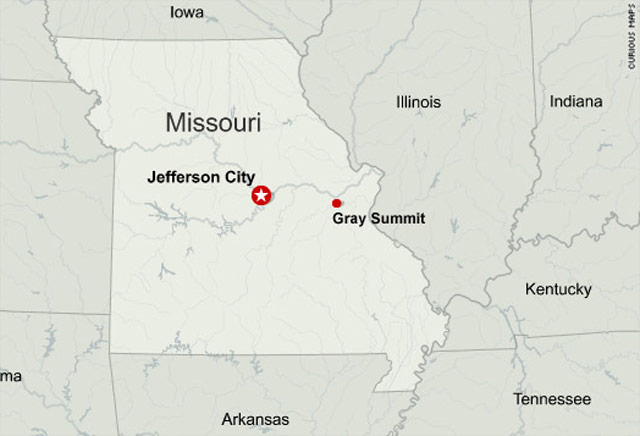 Buses smashed in freeway accident
One other child had been taken to the St. Louis Children's Hospital earlier in the day, spokeswoman Jackie Ferman said.
Duran said the crash closed about 4 miles of the eastbound side of the interstate.
Video from the scene showed a school bus resting atop the back end of a tractor-trailer and another school bus nearby. Later video showed a crane removing one of the buses from the tangled wreck.
The accident happened on I-44 in Gray Summit, which is about 40 miles southwest of St. Louis. The Franklin County Sheriff's Office said it was helping the Missouri State Highway Patrol respond to the wreck.
In addition, the National Transportation Safety Board says it is sending a "go team" to investigate.
One of the fatalities was in a GMC vehicle, said Missouri Highway Patrol spokesman Jeff Wilson, and the other was on the first bus. Crews were trying to pull all the vehicles apart so they could identify both fatalities. The tractor-trailer was stopped for traffic in a construction zone, Wilson said.
Renee Ridling, president-elect of the St. James Chamber of Commerce, said the town is a small, rural community about 100 miles west of St. Louis with a population of about 4,000. Ridling is a nursing facility administrator, and some of her staffers had children on the buses.
"Everybody's pretty anxious right now, wanting to know what's going on," she said.
Kelsie Parton, 25, is a volunteer at the St. James Tourist Information Center.
"The news spread really, really fast," Parton said. Once one person knew about the wreck, everybody called one another. There are also a lot of Facebook updates, she said.
She said the only local person who had come in to the center is her grandmother, who works at a pharmacy, and "they're all kind of worried" there.
"I've had a lot of travelers come in and ask if everybody's OK," she said. Some of them heard about the crash on the radio, while others passed it, she said.
She knows one boy who was on one of the buses and has spoken to his mother. He is OK. She said his last Facebook update said he was headed to Six Flags with the band, then the last one only said, "please pray."
CNN affiliate KTVI reported the two school buses involved in the crash were carrying high school band students from the St. James, Missouri, School District who were on their way to a Six Flags amusement park in Eureka.
CNN's Mark Bixler, Melanie Whitley and Ashley Hayes contributed to this report
FOLLOW THIS TOPIC