Crews bringing California wildfires under control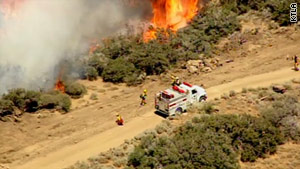 In Los Angeles County, firefighters now have the Crown Fire mostly contained. Good weather has helped.
STORY HIGHLIGHTS
The Bull Fire is now 95 percent contained
The West Fire is now 100 percent contained, and its cause has been determined
The Crown Fire is now 89 percent contained
Weather conditions have been more favorable to firefighters
Los Angeles, California (CNN) -- More favorable weather conditions over the weekend helped firefighters gain the upper hand in efforts to contain three fires that have been raging in Southern California.
The Bull Fire, one of two burning around the town of Tehachapi, was 95 percent contained Monday. It has burned more than 16,000 acres, and has destroyed eight homes.
Sequoia National Forest officials announced the Bull Fire area closure was lifted at 9 a.m. (noon ET). But campgrounds within the fire area will remain closed until crews can finish work to allow public access. Crews were removing equipment and supplies left along the fire lines and were repairing areas damaged by firefighting efforts.
Kern County fire officials said the West Fire, north of Tehachapi in the Sequoia National Forest, was 100 percent contained. Mop-up along the fire line was continuing Monday.
The West Fire destroyed 30 structures, mostly homes, although it burned less than 1,700 acres.
The Kern County Arson Unit, along with the California Department of Forestry and Fire Protection, said the West Fire was started by sparks generated when two workers were cutting a steel pipe with a mechanized saw July 27. The two men have been cited for a misdemeanor for causing a fire using mechanized equipment.
Fire lines of both the Bull Fire and the West Fire will be patrolled by air Monday. Firefighting resources were released to fight other fires burning in California and elsewhere in the country.
In Los Angeles County, firefighters had the Crown Fire 89 percent contained Monday, the Los Angeles County Fire Department said, and full containment was expected by the end of the day Monday.
Authorities said that they had lifted evacuation orders and most residents had returned home, while hundreds of firefighters continued to construct fire lines, work on any remaining hot spots and patrol the area.
The blaze has burned 14,000 acres in the area, fire officials said.
Gov. Arnold Schwarzenegger said the state is prepared for any more fires that erupt.
"We were very fortunate not to have fires for some time, because the air was cool and we didn't have the experience of dry weather and all of these winds and so on, but all of a sudden the fire season kicked in," he said Friday.
"But we are ready," he added. "There's great coordination going on, and we have resources distributed all over the state."
The causes of Crown and Bull fires are under investigation.
FOLLOW THIS TOPIC