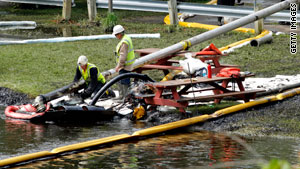 The cause of the spill from a Michigan pipeline is under investigation.
STORY HIGHLIGHTS
NEW: Michigan's governor and the EPA administrator fly over the site and report progress
NEW: Senator: The spill is "a very sad, a very angering situation"
The company that owns the pipeline said 47 animals are being treated, and one has died
Nearly 6,000 barrels of crude oil have been recovered
(CNN) -- Michigan's governor and the boss of the U.S. Environmental Protection Agency said Friday they believe "significant progress" has been made on cleaning an oil spill on the Kalamazoo River, but the spill remains a serious situation.
Gov. Jennifer Granholm, EPA Administrator Lisa P. Jackson and U.S. Sen. Debbie Stabenow flew over the location of the spill Friday.
"It is a very sad, a very angering situation," Stabenow said. "I know people have a multitude of emotions being up in that helicopter and looking at this beautiful river where there has been so much improvement over the years. ... To have something like this happen feels like a sucker punch right in the gut."
Oil began leaking Monday from a 30-inch pipeline owned by Enbridge. The oil moved from Talmadge Creek into the Kalamazoo River, which flows from near the city of Battle Creek into Lake Michigan. The pipeline normally carries 190,000 barrels of oil per day from Griffith, Indiana, to Sarnia, Ontario.
The leak was stopped Tuesday, but not before an estimated 19,500 barrels of oil slipped out. The cause of the spill is under investigation.
"There is no intention to allow the pipeline to open again until everything is satisfied in terms of safety ... and efforts to make sure there is confidence to make sure this will not happen again," Stabenow said Friday evening.

Video: 'All hands on deck' in Michigan spill
Nearly 6,000 barrels of crude oil had been removed by Friday, officials said.
"Yesterday, there were 25,000 feet of boom. Today, there were 62,000 feet of boom," Granholm said. "We know now there are about 450 employees on the river, but we also know the weather forecast will be for rain. We're concerned about further spread."
The governor said the EPA has taken the state's "cry for resources" seriously and has asked for more resources to prevent the spill from spreading further.
Jackson, the EPA administrator, acknowledged her agency was working with a "serious spill" but said "the majority of the oil will be addressed in weeks, not months."
Jackson said she could smell oil vapor during her helicopter tour but says she does not think the vapor is a health concern. She suggested parents keep children indoors, more to prevent irritation rather than harm.
Stabenow said taxpayers will not be responsible for cleaning up the spill.
"The company will be billed for that," she said. "They have committed, and they will be responsible."
Patrick Daniel, CEO of Canadian-based Enbridge, said "progress has been made but there is still a lot of work to be done."
Asked about reports that Enbridge delayed reporting the spill to the National Response Center, Daniel and Executive Vice President Steve Wuori said the report was "as immediate as it could be," according to CNN affiliate WXMI in Grand Rapids. Companies are required to report such spills within two hours, but Enbridge said their employee was put on hold for 25 minutes.
The Detroit Free Press reported that Enbridge made the call 16 hours after two calls were made to local officials about an odor. An investigator for the National Transportation Safety Board said Friday 911 calls from residents will be studied.
Enbridge reported on its website Friday that 47 animals are being treated for effects from the spill. One animal has died.
The spill covered 25 miles and resources will be put in full force to prevent it from contaminating Morrow Lake, just east of Kalamazoo, and Lake Michigan, said Ralph Dollhopf of the Environmental Protection Agency.
FOLLOW THIS TOPIC