Airmen killed in Alaska plane crash identified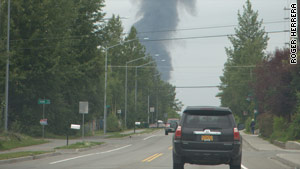 Smoke from a cargo plane crash in Alaska rises through the trees.
STORY HIGHLIGHTS
The names of all four airmen killed in a plane crash were released Friday
The C-17 cargo plane was scheduled to participate in an air show this weekend
The air show will continue, Air Force officials say
The cause of the crash is under investigation
(CNN) -- The Air Force has identified four airmen who died Wednesday when a cargo plane crashed during a training mission near Elmendorf Air Force Base in Alaska.
Majors Michael Freyholtz and Aaron Malone, pilots assigned to the Alaska Air National Guard's 249th Airlift Squadron; Capt. Jeffrey Hill, a pilot assigned to Elmendorf's 517th Airlift Squadron; and Master Sgt. Thomas Cicardo, a 249th Airlift Squadron loadmaster, were on board the plane.
Their C-17 aircraft, assigned to the 3rd Wing at the base, crashed about 6:14 p.m. Wednesday, Air Force Capt. Uriah Orland said.
"We come to work with immense sorrow after four of our fellow airmen lost their lives in the C-17 crash," Brig. Gen. Charles E. "Chuck" Foster, 176th Wing commander in the Alaska Air National Guard, said in a written statement Friday. "They were more than valued airmen: They were our teammates, friends, family members and fellow Alaskans. We mourn their loss and share the deep sadness of their families."
Air Force Lt. Gen. Dana Atkins confirmed the C-17 was a part of a demonstration practice for the 2010 Arctic Thunder air show this weekend. On Thursday, officials announced the air show will proceed.
"We do this to both honor the loss of our four airmen and also to pay respect to all service members who make the ultimate sacrifice for our freedoms," said Col. John McMullen, 3rd Wing commander at Elmendorf. "We hope our friends and neighbors throughout Alaska will come out and join us."
Gov. Sean Parnell issued a statement Wednesday expressing his sympathy for the crash victims.
"Alaskans are very connected to the military and our thoughts and prayers are with Alaska's Air Force family," Parnell said.
A stress management team was dispatched to the base to help anyone who may have suffered trauma as a result of the crash. A board of officers will investigate the accident, Orland said.
John Pennell, a spokesman for Joint Base Elmendorf-Richardson, said Thursday he expects a lengthy investigation.
"We've got a bunch of investigators that are combing the accident site," he said. "It will take a while."
CNN's Lauren Russell and Holly Yan contributed to this report.
FOLLOW THIS TOPIC