New York battles bed bugs with big bucks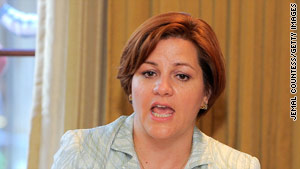 City Council Speaker Christine Quinn announced a $500,000 initiative to fight bed bugs in New York.
STORY HIGHLIGHTS
New York City will spend $500,000 to reduce bed bug infestations
The insects are parasites that feed on human blood
Infestations have been on the rise in New York
The new initiative will be an educational effort on how to combat bed bugs
New York (CNN) -- New York City Council Speaker Christine Quinn has a message for bed bugs: "Drop dead!"
And the city said Wednesday it's backing that message up with some big bucks.
Quinn, along with Deputy Mayor Linda Gibbs, announced a $500,000 initiative of city funding to help deal with one of the city's most annoying and difficult-to-eradicate pests.
The city will launch an educational campaign on how to better combat these critters, including better coordinated efforts by city agencies, a new health department task force and a bed bug web portal.
"The portal will provide factual and targeted information for New Yorkers affected by bed bugs in their homes," Quinn explained at a press conference on the steps of City Hall. The site will tell New Yorkers "how to prevent and treat an infestation. And what to look for in an exterminator and how to safely dispose of infected items."
The resources were allocated based on the recommendations of the New York City Bed Bug Advisory Board, a group of industry experts, entomologists, advocates and representative from city agencies.
Bed bug infestations have been on the rise in the city, affecting apartments, retail stores, schools and hospitals. Telephone complaints to New York City 311 hotline jumped from 21,922 in 2008 to 33,772 complaints in 2009.
Earlier this month bed bug infestations shut down two stores in downtown Manhattan for two days.
New York's increase in bed bugs is due in part to its population density and its bustling tourism. Quinn joked with reporters, "Everyone wants to come to New York, even the bed bugs. If you can make it here, you can make it anywhere -- even as a bug."
Quinn acknowledged that the numbers on infestations may get worse before they getter better. "Once there is information out there and publicity about the portal, the number may go up."
Quinn reassured New Yorkers that the city will continue to monitor 311 calls and city agencies, and if more needs to be done the city will take other steps.
The rise in bed bug cases is not exclusive to New York. Last year, the federal Environmental Protection Agency sponsored a bed bug conference in Arlington, Virginia. Speaking to a crowd of 230 academics, agency employees and exterminators, Dale Kemery, an agency spokesman, said the incidence of infestation in the United States has tripled since 2005.
Despite their name, bed bugs need not live in beds. They generally live within 10 to 20 feet of their hosts and avoid light, preferring the dark security of spaces behind headboards, under baseboards and behind hanging pictures. They are parasites that feed on human blood, and their bites can leave red, itchy welts.
FOLLOW THIS TOPIC