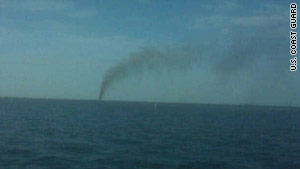 Smoke billows from a wellhead after a towing vessel struck it off the southeastern Louisiana coast Tuesday.
STORY HIGHLIGHTS
NEW: Authorities are unsure when a leaking, "orphan" well might be capped
NEW: The Coast Guard says that earlier capping estimates were "premature"
NEW: A Texas well-capping firm is working through the night to assess situation
NEW: It's still unknown how fast oil and gas are leaking from the well
New Orleans, Louisiana (CNN) -- Authorities in Louisiana still don't know how long it will take to cap a well struck by a vessel off the coast, as they tried Wednesday to minimize the damage from leaking oil and gas.
After a day of conflicting statements -- including a comment by a parish councilman that the well could be capped Wednesday -- the Coast Guard said it may not be known until Thursday how long it will take.
"The entire situation is very dynamic. It could change at any time," Elizabeth Bordelon, a Coast Guard spokeswoman, said of the leak that began Tuesday. Any timetable is "premature," she said.
A Texas company called in to called in to cap the well, Wild Well Inc., is working through the night to evaluate the condition of the wellhead and decide how to secure it.
The abandoned well was hit early Tuesday. A tugboat was pushing a dredge barge when the dredger hit the wellhead around 1 a.m.
Since then the wellhead has been spewing a mixture of oil, natural gas, and water into Barataria Bay in southeastern Louisiana. The resulting sheen covers more than six square miles.

Video: Tug vessel breaks open oil well

Video: A new leak in the Gulf?
The well was once operated by Cedyco Corp. of Houston but was declared abandoned by the state in November 2008. But U.S and state officials say Cedyco still is responsible for it, and the company has hired Wild Well to secure it.
In addition, Environmental Safety and Health Inc., a company that cleans up spills, had been contracted for containment and cleanup.
It's unknown how fast oil and gas is spewing from the well. When it was in use, the well produced 33 barrels of oil a day.
Officials say 111 people and 35 boats are involved in cleanup efforts, and so far, 18,400 feet of boom have been deployed to contain the oil.
Meanwhile, confusion reigned Wednesday over when the well might be capped.
Jefferson Parish Councilman Chris Roberts told CNN Wednesday morning that if all went as planned, the well might be capped later in the day.
Later, a statement by Coast Guard Commander Dan Lauer indicated it could take 10 to 12 days to shut the well, a figure reported by local television news.
But still later, Bordelon said that assessment was premature. She said authorities were hoping to have a better picture later Wednesday night or Thursday.
Meanwhile, the Coast Guard has tapped the Oil Spill Liability Trust Fund, which the federal government makes available for natural resource damage assessments.
And retired Coast Guard Adm. Thad Allen, who is overseeing the response to the crippled BP well in the Gulf of Mexico, said crews were able to take advantage of the "significant resources" available from that effort. That includes skimming equipment and booms and fishing vessels designated as 'vessels of opportunity."
CNN's Vivian Kuo, Erin Lowry, MaryLynn Ryan and Tristan Smith contributed to this report
FOLLOW THIS TOPIC