Justice Department reviewing reports of FBI test cheating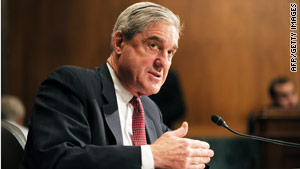 FBI Director Robert Mueller testifies before a Senate Judiciary Committee hearing on Wednesday.
STORY HIGHLIGHTS
The Justice Department is investigating reports that FBI agents cheated on a test
The exam was on surveillance guidelines
FBI Director Muller tells a hearing the situation may be "a lack of understanding and confusion"
Hundreds of agents took the test, which was an open-book exam
Washington (CNN) -- The Justice Department's Office of Inspector General has launched an investigation into whether large numbers of FBI agents may have improperly taken a test on guidelines for agents, according to FBI Director Robert Mueller.
During a congressional hearing Wednesday, Mueller was asked about reports hundreds of agents may have cheated on the exams, which focused on guidelines that limit surveillance, and he responded he did not know the precise number and is not certain the inspector general knows that number.
Mueller said the inspector general has told him about certain FBI offices where testing problems were "widespread, and it may be attributable to a lack of understanding and confusion about procedures."
Mueller said all agents and some other FBI personnel received more than 16 hours of training on the guidelines and then took exams. "There was a test given a year ago. It was an open-book test," Mueller said. The FBI director added the testing rules said agents "should not get help from another person."
Reports about test-taking problems include instances where agents finished the exams much more quickly than would be expected, and instances in which agents might have taken the test together, law enforcement officials said.
Mueller said he would wait to hear from the inspector general and then he expected to follow any recommendations for changes. He said he thinks the training is proving effective and has led to an 80 percent reduction in paperwork errors. "I do believe that our workforce absolutely understands what can be investigated, how it must be investigated," Mueller said.
The president of the FBI Agents Association, Konrad Motyka, wrote a letter to the Justice Department's inspector general several months ago saying agents were confused about the rules for taking the test. CNN called Motyka but was told he is unavailable to comment.
One law enforcement official objected to the use of the term cheating to describe the problems with the test. "Maybe there was a miscommunication, but it was an open-book training test," the official said.
An early indication that some agents might be breaking the test-taking rules came to light in late 2009 with reports of problems in the Washington field office. The FBI assistant director in charge of that office, Joseph Persichini, retired while a review of test-taking in the office was underway.
The guidelines, known as the Domestic Investigations and Operations Guide, were instituted in late 2008. They allow agents to conduct surveillance for national security purposes even without evidence of a crime.
Interest groups including the American Civil Liberties Union have raised concerns the FBI could gather information on particular racial or ethnic groups that would amount to profiling. The ACLU is filing Freedom of Information Act requests in 29 states and Washington, asking for records on how the FBI gathers and uses information on race and ethnicity.
FOLLOW THIS TOPIC