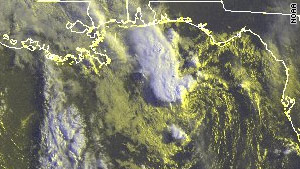 Tropical Depression Bonnie has continued to weaken as it approaches the Gulf Coast.
STORY HIGHLIGHTS
NEW: National Hurricane Center says Bonnie is no longer a tropical depression
NEW: The storm is now a disorganized area of low pressure
Bonnie has been weakening over the last day
Miami, Florida (CNN) -- The storm called Bonnie was downgraded Saturday from a tropical depression, according to the National Hurricane Center.
The storm had weakened into a disorganized area of low pressure Saturday afternoon and was expected to dissipate further.
Forecasters dropped the tropical storm warning for the Gulf Coast region earlier in the day as Bonnie weakened.
The warning -- which had been in effect for Destin, Florida, to Morgan City, Louisiana, including the Lake Pontchartrain region -- was discontinued as of the 11 a.m. ET advisory.
Bonnie made landfall as a tropical storm around noon Friday near Biscayne Bay in southeastern Florida, with maximum sustained winds of 40 mph. But it weakened as it crossed over the state.
Before the storm moved into the Gulf, operations to clean up the BP oil spill were put on hold until the system's path and severity could be determined.
BP suspended work on a relief well to permanently seal the damaged well ahead of the storm. And the federal official overseeing the effort, retired U.S. Coast Guard Adm. Thad Allen, ordered ships in the area to shore because of the possibility of choppy seas and gusty winds.

Video: Bonnie brings light flooding to Florida

Video: Oil spill recovery interrupted

Video: Gulf oil spill: Behind the scenes
Ships used to skim oil off the surface were forced to come ashore as well. Hundreds have been operating off the coast.
Meanwhile, states of emergency were declared in both Louisiana and Mississippi. The emergency declarations were intended to speed state help to local governments and allow emergency crews to respond more efficiently.
"While it's only forecasted to be a tropical depression at this point, we know from experience that it's best to prepare for the worst and hope for the best," Louisiana Gov. Bobby Jindal said in a statement Friday.
He said about a half dozen Louisiana parishes had called for voluntary evacuations from low-lying areas and mobile home parks. And on Friday, the Louisiana Department of Children and Family Services encouraged residents to prepare for the storm by pre-applying for Disaster Supplemental Nutrition Assistance Program benefits, previously known as Disaster Food Stamps.
The program offers help buying groceries for those who do not regularly receive nutrition assistance but who are affected by lost wages or damages because of a disaster.
Earlier, the weather system drenched the Bahamas, Puerto Rico, Haiti and the Dominican Republic as it moved from the Caribbean to the Atlantic.
When it reached Florida, residents in Cutler Bay saw tree branches littering the roads as Bonnie passed through Miami-Dade County.
"It was pouring rain for four to five hours straight," said Matthew Slack, a bartender at Cutler Bay Sports Bar and Grill. But he added, "It's not that bad. It's like a regular summer storm in Miami."
CNN meteorologist Sean C. Morris contributed to this report.
FOLLOW THIS TOPIC