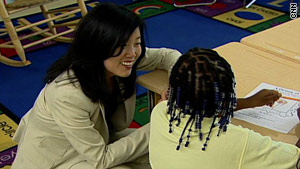 Schools Chancellor Michelle Rhee said all D.C. public school students have "a right to a highly effective teacher."
STORY HIGHLIGHTS
NEW: Schools chancellor Michelle Rhee says children are done "a disservice" by poor teachers
Teachers union says most members dislike IMPACT program
Union plans to challenge 81 firings
Hundreds of other employees are put on notice
Washington (CNN) -- The District of Columbia public school system announced Friday that it is letting 226 employees go for poor performance under the education assessment system IMPACT.
Another 76 employees will be terminated because of licensing issues, schools Chancellor Michelle Rhee said in a news release. Of the 302 employees who are losing their jobs, 241 are teachers, she said.
"Every child in a District of Columbia public school has a right to a highly effective teacher -- in every classroom of every school, of every neighborhood or every ward, in this city," Rhee said.
Rhee said on CNN's "John King, USA" that she thought the cleanup was a long time coming.
"We want to get along with the union. We want to get along with this person or that person. We don't want to fire anyone," she said.
"But in the meantime, children have been done a disservice every single day. We have graduated a generation of Washingtonians who don't have the skills and knowledge that they need to be productive members of society because our schools have failed them."
Rhee did not break down the number of teachers fired for poor performance versus licensing issues.
Under the IMPACT program, teachers were judged on five classroom observation visits by principals and outside education experts. The system also rates teachers based on their students' achievement.
In response to the firings, the Washington Teachers Union released the results of a membership study showing that "a large majority of teachers believe that IMPACT is not a fair evaluation system."
Washington Teachers Union President George Parker said, "It is evident from this survey that our members agree that IMPACT is a flawed instrument with many loopholes."
The union claims that teachers under the IMPACT system need clearer communication on expectations, among other things.
The teachers union has no say in which evaluation system that the D.C. public school system chooses to use, and by contract, teachers can be let go for low evaluations.
Parker added that the union plans to challenge the firings of about 81 of the teachers.
Randi Weingarten, president of the American Federation of Teachers, told CNN's Rick Sanchez that the IMPACT system needed more evaluation itself..
"Everyone who teaches gets better with time and gets better with experience, just like ballplayers and others," she said.
" ... All we're saying is that if an evaluation system is thorough, competent, comprehensive, measures how we're doing as teachers and how students are learning, then it's fine," she said. "But the thing is, in the whole year, we have raised, and the teachers have raised, lots and lots of different issues about the evaluation system, and the person who turned a blind eye to it was Michelle."
Rhee told King that she had heard the teacher's union say teachers with poor evaluations should have been given more time to improve.
"But the question that I ask to them is 'Whose children are we going to put in the classroom of ineffective teachers next year?' My two kids go to DCPS. I'm not willing to put my kids in those classrooms, and I don't think any parents anywhere in this city should be forced to make that decision," Rhee said.
The 2009-10 school year was the first full year of implementation of the IMPACT program for the D.C. Public Schools.
Also Friday, the district announced that it has notified 737 employees that if their performance doesn't improve, they will be terminated after the upcoming school year.
FOLLOW THIS TOPIC