Tropical weather in Caribbean gaining steam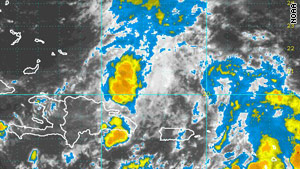 Some flooding already has been reported in the Dominican Republic and Puerto Rico.
STORY HIGHLIGHTS
NEW: Center reports high chance of system becoming tropical depression or storm
NEW: The weather system is already dumping rain on several Caribbean nations
NEW: Floods are reported in the Dominican Republic and Puerto Rico
The system would be named Bonnie if it becomes a tropical storm
(CNN) -- A vigorous tropical weather system forming in the eastern Caribbean has a high chance of turning into a tropical depression or more serious tropical storm over the next two days, according to the National Hurricane Center.
The center put the chances of the system developing into a depression or storm at 60 percent.
The weather system became better organized during the day and was centered near the eastern Dominican Republic, the center said late Tuesday. It said the system already is spawning widespread showers and thunderstorms as it moves west-northwestward at about 10 mph.
Forecasters said the Virgin Islands, Puerto Rico, the Dominican Republic, Haiti, eastern Cuba, the southeastern Bahamas and Turks and Caicos can expect heavy rainfall and gusty winds during the next couple of days. The hurricane center warns that heavy rain could cause life-threatening flash floods and mudslides in mountainous areas.
Is the storm headed your way? Share photos, video with CNN iReport
There's already been some flooding in the Dominican Republic and Puerto Rico. Authorities in the Dominican Republic warned residents of three provinces to watch out for mudslides and rising rivers. More than two dozen houses have been flooded there.
If the system becomes a tropical depression, it would be the third of the 2010 Atlantic hurricane season. If it then reaches sustained winds of 39 mph, it would be named Tropical Storm Bonnie.
The system could affect the Gulf of Mexico and U.S. coastal areas later in the week.
Bad weather could further disrupt efforts to clean up oil in the Gulf of Mexico from BP's crippled well, already affected in June by Hurricane Alex. The well is sealed for now with a containment cap as U.S. and BP officials contemplate a permanent solution, but a new storm could damage oil booms, force skimming boats to give up collecting oil from the surface and head to shore, and push cleanup crews on beaches to head for shelter.
CNN's Sean Morris contributed to this report.
FOLLOW THIS TOPIC