STORY HIGHLIGHTS
Gulf Coast residents are cautiously optimistic about BP's progress
They say it is too soon to celebrate
They are focusing on what promises to be a long, hard recovery
No matter what, for a rig worker's widow, life will never be the same
New Orleans, Louisiana (CNN) -- Dean Blanchard, a self-proclaimed king of shrimp, spent seven days a week running his Louisiana seafood empire. When the oil disaster shut everything down, he walked around in circles, feeling the powerlessness of a deposed monarch.
For the first time in three months, BP has stopped the oil from gushing, and Blanchard, like many other coastal residents, have let hope back into their hearts. Just a tinge.
The undersea video image showed a quiet ocean Friday -- no more brown plumes relentlessly billowing from the ruptured BP well.
"I'm hoping but nobody knows what's going to happen," he said, standing on his porch over the water in Grand Isle, like he does on most mornings before he walks next door to his three-room office.
Blanchard peered at his television screen, studied the wondrous site.
But he won't be celebrating until he can again feel the smack of salty air on his cheeks, taste brine on his tongue -- like he has for 28 of his 53 years as owner of a seafood processing business.
Even if BP is finally vanquishing its subsea monster, it will be many weeks before Blanchard will be able to send out boats again to start recouping the $35 million in sales losses incurred since the waters were closed off for fishing in May.

Video: Shrimping season opens in Gulf

Video: Oil goes from flowing to stopped
He spent $500,000 alone on just getting 1,200 fishermen ready for the season. They never came back. Many took their boats to work for BP in the cleanup effort. Others signed contracts with foreign companies.
For 88 days, Blanchard learned to live with terrifying uncertainty. He even thought about moving to Costa Rica, thought about how he might have worked on an oil rig like half the people in his family did. But he chose fishing.
When he ran his business, he felt like a king -- confident and in control. He had a lot of people depending on him.
BP's new well cap lifted some of the doom from Blanchard's heart, though he did not know when he would stop worrying about the future.
"Look at Tiger Woods," he said. "He took six months off and he ain't come back yet."
Blanchard will be watching keenly this weekend. Maybe this time, BP will succeed in preventing any more oil from marring the ocean. Maybe Woods will bag the British Open, which would be his first major tournament win since the sex scandal.
If Blanchard is king of shrimp, restaurant employee Michael Jackson is one "bad mother shucker."
He stood behind the bar of Felix's Restaurant & Oyster Bar in New Orleans' French Quarter and shucked oysters, as he has done for more than eight years, excited about developments in the Gulf.
"I was happy about it," said Jackson, 50, about the capped well. "But who's to say that cap's going to hold?"
His fears collided with jokes told to tourists at the bar, including one man who moments earlier spat out what he called his "first and last" raw oyster.
Like Blanchard, Jackson looked beyond BP's immediate victory.
"It still doesn't do anything for our oysters," he said. "What about the marshes? There's no telling how long our oyster beds will be closed up."
Across the street at Bourbon House Seafood, Jamie Munoz, that restaurant's general manager, offered his own mixed response to the news.
"See the smile? That's my reaction," he said at first.
But stopping the leak has been the goal for 88 days, he said. That's a long run. Now, it was time to focus on cleaning, get the fisherman back to work.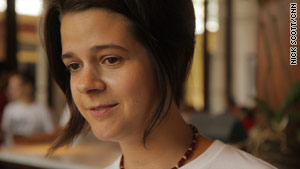 Tandie Gautreau says that while the fact that the oil well is capped is good news, she doesn't think people should start celebrating.
Tandie Gautreau, 27, served up eggs covered in Creole hollandaise at Stanley, a restaurant off Jackson Square. High ceiling fans swirled above, the kitchen buzzed behind her. South Louisiana is home to her and her family.
"We're thrilled," she said about the well cap's success so far. But people in this region, she said, are facing a recovery that will take many years.
"It's a complete catastrophe. It's an end of an era, the end of a way of life for many, many people. They can't fix this."
Tamara Augustine became manager of Grand Isle State Park just under a year ago. Louisiana's only uninhabited barrier island drew 100,000 visitors a year to its pristine beaches, lagoons and marshes before it was battered by hurricanes Katrina, Rita and Gustav.
The park finally reopened in April, just days before the Deepwater Horizon drilling platform exploded and triggered America's biggest oil spill in history. Augustine, 33, suddenly found herself changed from recreational manager to crisis coordinator.
White caps turned brown with oil. The beach closed. A sheen covered the lagoon. Giant 18-wheelers and military Humvees paraded through delicate park grounds in the oil recovery effort. Tourist camp grounds emptied, filled instead with oil workers.
Augustine cannot get her hopes up just yet.
"Life will continue here exactly as it has for the last few months," she said. "More oil will continue to wash ashore."
Besides, she said, this isn't BP's first attempt to cap the breached well. She will wait to see what happens.
Sherri Revette had been married to her husband, Dewey Revette, for 26 years when the chief driller was killed aboard the Deepwater Horizon. Their ranch home in the backwoods of Mississippi, near the Alabama border, sits at the end of a long gravel road named after him. It's been that way for a long time before he was taken away so suddenly.
But the bushes and shrubs out front are new, sent in sympathy to the family after his death. The boat that Dewey Revette bought in March still sits in the carport -- he never had a chance to put it in the water.
For Sherri Revette, BP's progress was bittersweet.
"I wish we had never gone through this in the first place," she said. "Our prayers have finally been answered. I hope it stays capped, and that we can get the rest of the mess cleaned up. But it doesn't bring my husband back or any of the 10 other men."
Her husband's overalls are still hanging in an unfinished sunroom. His leather redwing boots sit next to the door. There's a framed photo of the Deepwater Horizon underneath the mantle in the living room and a bronze helmet that each of the victims' families were given at the memorial service.
"Dewey was our world," she said.
No matter what happens next miles under the ocean's surface, no matter how efficiently the oil is cleaned up, nothing will make Sherri Revette's world the same again.
Journalist Drew Jubera contributed to this report.
FOLLOW THIS TOPIC