Louisiana governor says sand berms working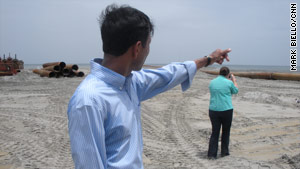 Louisiana Gov. Bobby Jindal points to under-construction sand berms that he says are keeping oil off the shore.
STORY HIGHLIGHTS
Louisiana Gov. Bobby Jindal says sand berms are helping keep oil from wetlands
Jindal reports more than 500 pounds of oily debris was collected off one berm
Some environmentalists are concerned that berms could do more harm than good
Construction on berms continues despite the oil flow stoppage on Thursday
(CNN) -- Shortly before BP announced Thursday it had stopped the flow of oil from its ruptured well in the Gulf of Mexico, Louisiana Gov. Bobby Jindal stood before a group of reporters in New Orleans, offering aerial photographs as proof that controversial sand berms are helping to keep some oil from his state's shores.
"The bottom line is that the berms are working," Jindal said, even though some are not fully completed yet.
Louisiana's plan calls for the construction of 40 miles of the berms, which are barriers made by dredging up walls of sand as high as six feet above the water's surface.
A statement from Jindal's office read, "Over 500 pounds of oily debris was collected off of the berm at the Chandeleur Islands during one day last week and tar balls are constantly washing up, proving that sand berms are an effective protection measure against oil."
BP is shelling out $360 million to fund the project and the cost could also be high for Jindal. He has wagered a lot of political capital on the controversial plan.
Jindal, a Republican, badgered the Obama administration for approval of the berm project despite concerns raised by some engineers and environmentalists.
The federal oil spill response commander, retired Coast Guard Adm. Thad Allen, maintained that while "we're not averse to attempting this as a prototype," there are "a lot of doubts about whether this is a valid oil-spill-response technique."
Louisiana environmentalist Mel Landry has mixed feelings about the berms. "There are instances where they would be of benefit," he told CNN in June.
But he added, "If they're trying to build a berm from across the front of every barrier island, where there is sensitive habitat for nesting birds, then it could have adverse impacts because these birds nest on the ground. Their nests are just little sand depressions they're laying the eggs in. So if you're all over that with a bulldozer, you're certainly going to be impacting those nests."
Landry added the berms could be blown away in a hurricane and could also disrupt natural tidal flows if they're used to block "gaps" between barrier islands.
None of those warnings stopped Jindal's push for the berms, and building continues despite the announcement that oil was no longer flowing from BP's broken well.
"It is too early to declare victory and there is still a lot more work that needs to be done," a statement from Jindal's office read. "We have been fighting a war against this oil for months now and we know our battles don't end even when the well is capped."
FOLLOW THIS TOPIC


Oil disaster: Tracking the numbers
Part of complete coverage on

A number of organizations are recruiting volunteers to help clean up coastal areas

Get the numbers, see the images and learn how the worst U.S. oil spill has changed lives, ruined economies and more.

These stories help us look into the lives of the hardworking people of the Gulf as they watch this disaster take its toll.

Is your area being affected by the spill? Help CNN track the oil slick and its effects on Gulf Coast communities and wildlife


Most popular stories right now