Landmark commission hearing may determine future of ground zero mosque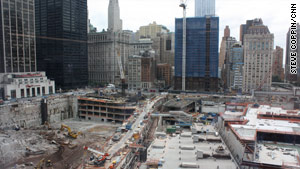 Opponents of a plan to build a mosque near ground zero hope a hearing Tuesday will deraill the project.
STORY HIGHLIGHTS
If commission rules building at site is not worth saving, mosque project can proceed
Mosque is to be built near site of destroyed twin towers
Protest leader says "We're asking them not to."
Plans call for mosque, performance art center and other public space
New York (CNN) -- New York's Landmarks Preservation Commission will hold a hearing Tuesday to decide whether a century-old building near ground zero is worth preserving.
The hearing is expected to be contentious because if the commission rules the building is not worth landmarking, it will pave the way for a mosque and community center that has been planned there.
Earlier this month, a community board said the 157-year-old building at the site wasn't architecturally significant enough to landmark.
Those pushing for the landmark status are opposed to the mosque at the site where the twin towers of the World Trade Center were destroyed by Islamist hijackers on September 11, 2001.

Video: Outrage over mosque proposal
"Building the ground zero mosque is not an issue of religious freedom, but of resisting an effort to insult the victims of 9/11 and to establish a beachhead for political Islam and Islamic supremacism in New York... ground zero is a war memorial, a burial ground. Respect it," said Pamela Geller, a conservative blogger, on her group's website, "Stop Islamicization of America."
Geller recently told CNN's Joy Behar that no one's telling the mosque's planners they can't build it, but "We're asking them not to."
"We feel it would be more appropriate maybe to build a center dedicated to expunging the Quranic texts of the violent ideology that inspired jihad, or perhaps a center to the victims of hundreds of millions of years of jihadi wars, land enslavements, cultural annihilations and mass slaughter," Geller said.
The project calls for a 13-story community center including a mosque, performing arts center, gym, swimming pool and other public spaces.
It is a collaboration between the American Society for Muslim Advancement and the Cordoba Initiative.
The Cordoba Initiative aims to improve relations between Muslims and the West.
"The Cordoba Initiative hopes to build a $100 million, 13-story community center with Islamic, interfaith and secular programming, similar to the 92nd Street Y," its website says, referring to the cultural institution on the upper East side of Manhattan.
Daisy Khan of the American Society for Muslim Advancement said it was a "community center with a prayer space inside."
She said the project was an opportunity for American Muslims living in New York to "give back" to the community.
"There is a lot of ignorance about who Muslims are. A center like this will be dedicated to removing that ignorance and it will also counter the extremists because moderate Muslims need a voice," she said. "Their voices need to be amplified."
The project has the backing of the Community Board of lower Manhattan. It does not require city permission to go ahead.
FOLLOW THIS TOPIC