Gulf storm sputters off Louisiana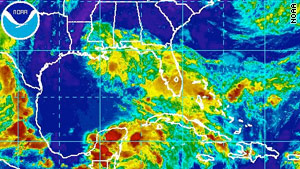 Satellite pictures of the storm at 8:15 p.m. ET on Monday.
STORY HIGHLIGHTS
Storm system nears southern Louisiana
Little time for it to develop into tropical system
Tropical wave hangs in northwestern Caribbean
Could threaten Mexico, Cuba even if no development
New Orleans, Louisiana (CNN) -- A closely watched weather system in the northern Gulf of Mexico swept ashore without becoming a tropical storm Monday evening but was expected to dump heavy rain onto southern Louisiana, according to the National Hurricane Center.
"Now that the system is over land and will move farther inland tonight, tropical cyclone development is no longer expected, Hurricane Center forecasters reported Monday night.
The system's chances rebounded from a "near 0 percent" prospect of becoming a tropical storm earlier Monday, but forecasters said the storm's proximity to shore made it unlikely to develop further. The main threat it will pose to the region will be heavy rain, they said.
Even without further development, the system could dump two to four inches of rain and cause flooding in parts of southern Louisiana, including New Orleans, forecasters warned.
The system is one of three that emerged in the Gulf less than a week after Hurricane Alex hit land in northern Mexico. Another system could follow a similar path: The Hurricane Center says a tropical wave in the northwestern Caribbean and southeastern Gulf had a 30 percent chance of organizing into a cyclone by Wednesday, with upper-level winds forecast to become more favorable for development as the system moves to the northwest about 15 mph.
That disturbance threatens the Yucatan Peninsula and western Cuba with heavy rainfall and gusty winds over the next day or so, whether it forms a tropical depression or not, the Hurricane Center said.
A third system that had been in the far eastern Caribbean on Monday morning dissipated later in the day, the center reported.