Small number of Texas tar balls linked to Gulf spill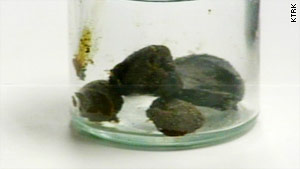 These tar bars were among those collected over the weekend from Glaveston County beaches, officials said.
STORY HIGHLIGHTS
Tar balls found off Galveston on Saturday and Sunday
Tests confirm "fingerprint" from Gulf disaster
Weathering suggests oil was carried by ship
Several unrelated tar ball finds reported since April
(CNN) -- Texas authorities have traced a small number of tar balls found near Galveston to the Deepwater Horizon oil spill, Coast Guard and state officials said Monday.
The tar balls collected from beaches in Galveston County over the weekend could fit in a five-gallon bucket, but have been confirmed to have originated from the ruptured BP well off Louisiana, said Jim Suydan of the Texas General Land Office.
Galveston is about 400 miles west of the site of the worst oil spill in U.S. history, which began in late April with the sinking of the offshore drill rig Deepwater Horizon. Coast Guard Capt. Marcus Woodring said authorities weren't sure how the tar balls made it that far, but tests confirmed that at least the first batch collected Saturday came from the Deepwater Horizon spill off Louisiana, he said.
None were found Monday, and the area's beaches and waterways remained open.
"Until we see a greater sum of oil, I can be cautiously optimistic that maybe this is something that will pass," Galveston Mayor Joe Jaworski told reporters.

Video: Tar balls found on Texas beach
Tar balls occasionally strike the Texas coast, in part because of seepage from undersea oil deposits or from sunken vessels, Woodring said. "Seventeen or 18" cases of tar balls unrelated to the Deepwater Horizon disaster have been reported to Woodring's Houston-Galveston Coast Guard sector since the spill erupted in April he said.
And though the ones found Saturday and Sunday were confirmed to have come from the ruptured well off Louisiana, they were less weathered than officials would have expected -- leading the Coast Guard to suspect the oil was either stuck to the side of a ship's hull or mixed in with ballast water from a passing vessel, he said.
Ships passing through the spill are are supposed to be decontaminated before they head into port, he said.
FOLLOW THIS TOPIC