Vets' care hurt by bureaucratic games, memo says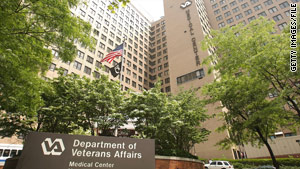 VA facilities canceled veterans' appointments in order to generate better performance scores, a memo says.
STORY HIGHLIGHTS
Memo: Veterans being denied care due to improper scheduling practices
VA employees using "gaming strategies" for better performance scores
Top VA official promises to stop denial of care
Advocate for veterans says practice is "tragic" and "unacceptable"
(CNN) -- Military veterans are being denied health care due to "inappropriate scheduling practices" at VA facilities, according to an internal memo from the Department of Veterans Affairs.
The memo, written on April 26, says employees at various VA facilities often canceled veterans' appointments with doctors in order to generate better performance scores in reports to supervisors.
"In order to improve scores on assorted access measures, certain facilities have adopted use of inappropriate scheduling practices sometimes referred to as 'gaming strategies,'" the memo says.
"Example: as a way to combat Missed Opportunity rates some medical centers cancel appointments for patients not checked in 10 or 15 minutes prior to their scheduled appointment time. Patients are informed that it is medical center policy that they must check in early and if they fail to do so, it is the medical center's right to cancel that appointment."
"This is not patient centered care," the memo says. "These (and other) practices will not be tolerated."
The memo was written by William Schoenhard, deputy under secretary for health at the Department of Veterans Affairs.
Schoenhard told CNN he had no personal knowledge of any VA facility using the inappropriate scheduling practices, but issued the memo to avoid future problems.
"This is a proactive step to set the tone that there will be zero tolerance for any unfair scheduling practices," he said.
"When I send out a memo like this, it is my expectation going forward that the facilities would seriously consider what practices are in place for scheduling veterans for appointments and ensure all we do in the future is 'veteran centric.'"
"We will have no tolerance for anything that causes the veterans inconvenience," Schoenhard asserted. The memo outlines more than 20 practices Schoenhard said VA schedulers must avoid.
Paul Sullivan, from the group Veterans for Common Sense, told CNN the memo is "absolutely" symptomatic of a nationwide problem with the VA. "It's tragic (and) beyond unacceptable," he said. If VA employees are "cooking the books, (they) need to find another job."
Roughly one in four veterans currently has to wait over a month to see a VA doctor, Sullivan said.
CNN's Barbara Starr and Alan Silverleib contributed to this report
FOLLOW THIS TOPIC