Gates tightens control over military interaction with reporters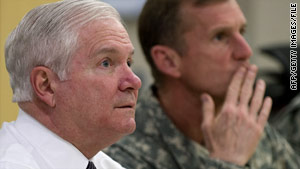 Defense Secretary Robert Gates, left, made the changes in response to the case of Gen. Stanley McChrystal, right.
STORY HIGHLIGHTS
Gates concerned department is "lax" in its engagement with media
Public affairs office must be notified
Directive issued 9 days after McChrystal resigned in wake of Rolling Stone article
Defense spokesman denies the two are linked
Washington (CNN) -- Defense Secretary Robert Gates on Friday ordered a tightening of controls over military interaction with reporters.
"... I am concerned that the department has grown lax in how we engage with the media, often in contravention of established rules and procedures," he said in a two-page memorandum.
Before interviews, "all component leaders or their public affairs officers must notify OSD (Office of Secretary of Defense) Public Affairs which, in turn and as appropriate, will ensure that senior department officials with the relevant overall knowledge and situational awareness have been consulted."
The directive came nine days after President Barack Obama relieved Gen. Stanley McChrystal of command of the Afghan war and 10 days after Rolling Stone published critical comments about top White House officials by members of McChrystal's staff.
But Douglas Wilson, assistant secretary of defense for public affairs, said the memo had been in the works before the magazine article.
He added that the memo requires military officials to inform public affairs of any interaction with the media before an interview takes place.

Video: Petraeus in Afghanistan
Wilson repeatedly told CNN the Gates' effort is not to restrict media access. "Secretary Gates has stated many times publicly and privately he greatly supports engagement with the news media," Wilson said.
Although Wilson didn't say so, the reality is that like any government agency, the Pentagon retains the right to veto or stop any media interviews. This notification process will make it easier for military public affairs to reject interview requests.
The directive is not clear on how the new policy will be implemented, but the Pentagon must now be informed of hundreds of media interview requests of military personnel.
It was not clear whether officials will still speak on background or will feel comfortable doing so. Pentagon officials often speak on background or on a not-for-attribution basis when they want to advocate a point of view without publicly taking responsibility for their statements.
The new policy comes 18 months after Obama, on his first full day in office, promised "a new era of openness in our country."
CNN's Barbara Starr contributed to this story.
FOLLOW THIS TOPIC