Anti-terrorism chief: U.S.-born cleric had major role in airline bombing try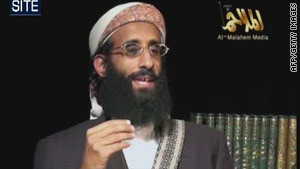 This still image of Anwar al-Awlaki was obtained from video on May 22 courtesy of the SITE Intelligence Group.
STORY HIGHLIGHTS
Cleric Anwar al-Awlaki has been linked to bomb attempt, U.S. officials have said
Michael Leiter says al-Awlaki had "direct operational role"
He says it would be wrong not to discuss if al-Awlaki should be targeted by CIA
Terror threat is "more challenging today," Leiter says
Aspen, Colorado (CNN) -- The director of the National Counterterrorism Center says the U.S. government believes that U.S.-born cleric Anwar al-Awlaki had "a direct operational role" in the attempt to bring down an airliner bound for Detroit, Michigan, on Christmas Day.
Al-Awlaki is thought to be in Yemen. U.S. officials have said he had contact with Umar Farouk AbdulMutallab, who tried to ignite a bomb concealed in his underwear aboard the Northwest Airlines flight.
Speaking to the Aspen Security Forum on Wednesday, Michael Leiter did not confirm that al-Awlaki is on a CIA hit list, but told the seminar, "If someone like Anwar al-Awlaki is responsible for part of an operation to try to kill more than 300 people over the city of Detroit, I think it would be wholly irresponsible for individuals like me, or (CIA Director) Leon Panetta, for Secretary (of Defense Robert) Gates and ultimately the president, not to at least think about and potentially direct all elements of national power to try to defend the American people. I think that is what the American people expect."
Leiter said any decision to target a U.S. citizen should be made thoughtfully and within the bounds of laws and constitutional principles, "but ultimately for us not to have that discussion and not, ultimately, if we have to, make that decision for me would be reprehensible."
He said the United States has had "some really incredible success" eliminating members of al Qaeda's senior leadership in Pakistan and the organization has been weakened, but "weaker doesn't mean harmless." He said it is "still a meaningful and dangerous force," estimating there are 50 to 100 al Qaeda operatives in Afghanistan, and more than 300 in Pakistan.
Leiter said the most problematic issue is the diversification of the terror threat, including al Qaeda's alignment with groups in Pakistan and East Africa. "The multiplicity of the threat is more challenging today," he said.
He also noted recent homegrown terror plots, like the shootings at Fort Hood in Texas and the attempt to detonate a bomb in New York's Times Square, saying, "It is a very difficult picture that we face."
FOLLOW THIS TOPIC