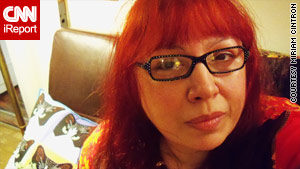 Miriam Cintron lost her job in late 2008 and has been receiving unemployment benefits since then.
STORY HIGHLIGHTS
1.2 million unemployed Americans are losing their benefits

U.S. House fails to pass extension of benefits Tuesday afternoon

One woman is forced to choose between paying for health care and daily expenses
(CNN) -- With her unemployment benefits coming to a halt, Miriam Cintron is forced to make a difficult choice between health insurance and daily expenses.
Signing into her unemployment benefits account last week, the New Yorker was horrified to see she hadn't received any money for three weeks, she says.
What would the four-year cancer survivor do if she couldn't afford to pay her $650 monthly COBRA payment? Her health insurance helped pay for life-saving treatment before, so giving it up is not an option, she says.
When Cintron was laid off from her job as a case worker at a homeless shelter in late 2008, she never imagined she'd go on unemployment. But even with 17 years experience, she's been unable to land a new job.
Cintron isn't alone. Unemployment benefits are set to run dry for 1.2 million people nationwide Friday after the U.S. Senate decided not to extend a deadline to file for these benefits last week, according to the National Employment Law Project.
Come Saturday, the number of people cut from unemployment benefits will surge to 1.63 million, according to U.S. Department of Labor estimates. By mid-July, about 2 million unemployed Americans could lose their benefits.
It's very hard for me to get into this feeling sorry for myself. ... But I am getting there.
--Miriam Cintron, unemployed American
Before last month, out-of-work Americans were eligible for extensions once they maxed out at 26 weeks of state benefits. Depenging on the state, people could qualify for up to 73 weeks of federal benefits -- a total of 99 weeks. But, Senate Republicans blocked the extension with a 57-14 vote last week.
Senate Republicans filibustered the bill Wednesday night and the House could vote again as soon as Thursday.
"The reality is that we have the worst job market on record going back to the Great Recession," says Maurice Emsellem, policy co-director at National Employment Law Project.
"There's only one job available for every five unemployed workers."
For people who are apt to say, "Go find a job," Emsellem says the predicament of the unemployed isn't easy to escape.
"For anybody that has a thought in their head that unemployed workers are to blame for their situation, the reality is that workers are struggling hard to find work, but the jobs are just not there."
National Employment Law Project resources for the unemployed
While Cintron has been struggling to make ends meet for the last year-and-a-half, she worries about other people in the same predicament.
"My story is one story and it's unique," she says. "But, there are so many people with children, other issues, that are in dire situations."
Are you one of the 1.2 million? Share your unemployment story
"I'm just shocked that more attention isn't being paid to this story."
She's thankful she doesn't have any children relying on her for support right now. But, she does care for her mother. Part of Cintron's unemployment checks have been going toward her mother's expenses since she moved in with her a few months before Cintron lost her job.
Cintron's $425 unemployment check each week -- or $1,700 each month -- has to stretch a long way. She pitches in for appliances, groceries and whatever else her mother needs. Health insurance payments burn a hole in her wallet at a whopping $650 per month. And then there's the storage fee of $300 she pays for all her excess furniture from her old apartment.
If Congress fails to pass the bill granting the unemployment benefit extensions this week, Cintron says she will only be able to stay afloat for a month. She will have to dip into her 401(k) retirement plan to continue to pay for health care, she says.
As to what happens after that, Cintron says she just doesn't know.
"I will try to survive and see what I can do for paying the health insurance for at least another few months with my 401(k)."
"I don't qualify for Medicaid, I make too much money. I have to pay the $650 to a private health insurer."
Finding the income to support her expensive health insurance hasn't been an easy task. For the last year-and-a-half, Cintron has been applying to jobs at homeless shelters in New York. Even though she has landed several interviews, they haven't amounted to anything.
"The agencies where I'm applying to, they're all cutting back too," she says, citing city funding cutbacks.
Cintron is considering part-time or customer service work as a last resort, but she's worried she may be worse off.
"I certainly don't want to live on unemployment," she says. "The customer service jobs don't pay well, don't have health insurance. I really need insurance because I'm a cancer survivor."
For now, Cintron keeps logging into the unemployment benefits website, typing in her account number and trying to claim benefits.
Cintron says the New York State Department of Labor has instructed her to keep logging in as normal, even though she's not getting a dime. Cintron says the website is confusing and she's unsure of how many extensions she's had.
With all the stress and lack of income, Cintron's been relying on hobbies to try to keep her spirits up.
Ever since she lost her job, she's been an active iReporter, scouting events and stories in her native New York. Videography and photography have become her focus. In this digital age, it's free for her to upload her images, so it's a cheap hobby.
See Cintron's iReports over the years
Her other passion is music. She's sad she's had to nix going to concerts, but says she's lucky to live in a city where so many free shows are going on at any time.
Even though she's found ways to lead a semi-normal life, her time being unemployed is starting to wear her down.
"I'm a glass half-full kind of person. I'm a very positive person. It's very hard for me to get into this feeling sorry for myself, what-am-I-going-to-do mode," she says.
"But I am getting there."
FOLLOW THIS TOPIC