3 burned in gas explosion in Oklahoma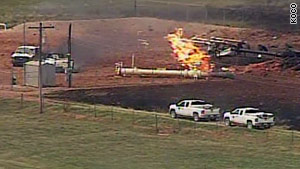 The blast took place in a rural area west of Pocasset, Oklahoma, on Tuesday, a fire official said.
STORY HIGHLIGHTS
Official: One worker suffered third- and second-degree burns
Cause of blast not immediately known, official said
One road remained closed while investigation continued
"They'll ... wait for pipe to bleed out," company spokesman says
(CNN) -- Three workers were burned Tuesday when a gas line exploded in a rural area west of Pocasset, Oklahoma, according to Deputy Chief Brian Zalewski of the Chickasha, Oklahoma, fire department.
Zalewski told CNN all three workers were taken to an Oklahoma City hospital, suffering from injuries caused by burns related to the blast. Aerial images from CNN affiliate KWTV showed one person being airlifted by helicopter with what appeared to be injuries to an arm.
The two workers transported by ground suffered only minor burns and cuts, according to Dale Thompson, director of Grady County emergency management. Thompson told CNN the airlifted victim suffered second- and third-degree burns.
Aerial images showed flames shooting several feet into the air. Three nearby trucks were set on fire, leaving one nothing more than a scorched metal frame.

Video: Gas line explodes in rural Oklahoma
Brian Alford, a spokesman for Enogex, a subsidiary of Oklahoma Gas & Electric, said the cause of the explosion was not immediately known, but there were repairs being done in the area.
One road remained closed off while investigation continued, Thompson said.
"They'll shut down the flow of gas, and then wait for the pipe to bleed out," Alford explained.
The area is about 50 miles southwest of Oklahoma City. The victims' names have not been released.
CNN's Aaron Cooper and Erin Lowry contributed to this report.
FOLLOW THIS TOPIC