Oil disaster recovery planner to meet with Louisiana governor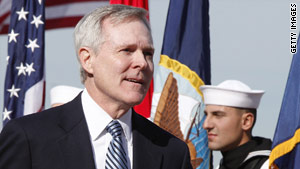 Navy Secretary Ray Mabus is leading the Gulf Coast long-term recovery effort.
STORY HIGHLIGHTS
Navy Secretary Ray Mabus and Louisiana Gov. Bobby Jindal to meet Monday afternoon
Mabus was tapped to draw up long-term oil spill recovery plan
Jindal criticized federal government Wednesday for halting sand-dredging
(CNN) -- The man tapped by President Barack Obama to work on long-term oil spill restoration will meet with Louisiana Gov. Bobby Jindal on Monday afternoon to discuss the disaster's economic and environmental impacts on the state, according to a Secretary of the Navy press release.
Navy Secretary Ray Mabus, a former governor of Mississippi, is to lead the effort to draw up the government's plan for recovery efforts encompassing immediate and long-term concerns for the suffering region.
The plan will be developed with input from the states, local communities, tribes, fishermen, businesses, conservationists and other Gulf residents, according to the Navy.
Jindal criticized government authorities Wednesday after sand-dredging operations to protect the state's coastline from the oil disaster were halted. Scientists and experts were concerned dredging would damage nearby barrier islands. Jindal called on the U.S. Fish and Wildlife Service and the Army Corps of Engineers to let workers resume dredging off the Chandeleur Islands.
"We've been losing 300 feet every year off these islands -- where has the federal government been?" Jindal told reporters after touring the dredging site Wednesday. "All of a sudden when we're building new land to protect our coast, they're worried about a hypothetical."
FOLLOW THIS TOPIC


Oil disaster: Tracking the numbers
Part of complete coverage on

A number of organizations are recruiting volunteers to help clean up coastal areas

Get the numbers, see the images and learn how the worst U.S. oil spill has changed lives, ruined economies and more.

These stories help us look into the lives of the hardworking people of the Gulf as they watch this disaster take its toll.

Is your area being affected by the spill? Help CNN track the oil slick and its effects on Gulf Coast communities and wildlife


Most popular stories right now