New York investigators probe weekend fire that killed 6 children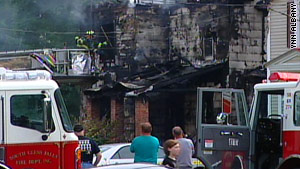 Investigators pored over the scene at the two-story single-family dwelling in Fort Edward, New York.
STORY HIGHLIGHTS
Weekend house fire left six children dead, two adults injured
Authorities say no evidence of foul play
Source of fire was in living room, investigators say
Seventh child escaped blaze
(CNN) -- Authorities in upstate New York sifted through debris and ashes Monday investigating a weekend house fire that left six children dead and two adults hospitalized.
The children, whose ages ranged from 1-12 years, all died from smoke inhalation, according to Washington County Director of Public Safety William Cook.
Authorities said Monday they believe the fire was accidental, although the source of the blaze was still being investigated.
The house, a two-story, single family dwelling in Fort Edward, New York, was already engulfed in heavy smoke and fire Saturday morning when firefighters arrived, Cook said.
He said two adult survivors were treated at Westchester Burn Center. A seventh child, age 8, was able to escape the house. Cook described the two adults as the children's parents. He said the woman was hospitalized in critical but stable condition Monday, but he said he did not know the man's condition or whereabouts.
Cook said authorities have located the blaze's ignition source in the first floor living room, but he did not elaborate on the source.
He said one smoke detector was found in the cellar stairway. Cook said the youngest child was found in the downstairs bedroom, while the other five children were located in various bedrooms upstairs.
CNN's Jamie Guzzardo contributed to this report
FOLLOW THIS TOPIC