As oil creeps into Mississippi, frustration flows from coastal mayor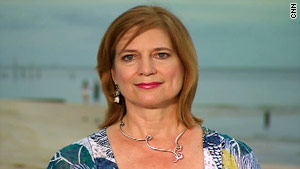 Connie Moran, mayor of Ocean Springs, Mississippi, is frustrated by federal and state officials.
STORY HIGHLIGHTS
Mayor toured beach, spotted oil streaks
Skimmers and vessels had been promised, she said
None were to be found as oil moved in
(CNN) -- The mayor of Ocean Springs, Mississippi, appearing Monday evening on CNN's "Campbell Brown," criticized the response to the oil spill disaster by both federal and state officials.
Part of Connie Moran's frustration comes from a tour she took this weekend off Horn Island, where she had heard reports of large oil streaks.
"Sure enough, about a 10-to-15-foot-wide strip of orange oil (was visible)," explained Moran. "We followed it for five miles long, as far as the eye could see," she told CNN's Brown.
"What we found so outrageous is that we were promised by the Unified Command (for the oil spill) that a situated mobile (unit) would have skimmers and vessels to meet this at the pass. First they would fight it in the Gulf and then they would meet it at the pass to prevent it from coming into the Sound and there was no boat there," said Moran.
In the last week, a wide band of oil has been detected moving toward the Mississippi coast. Until recently, the oil appeared to be heading toward the Florida Panhandle, according to National Incident Commander Adm. Thad Allen.
Moran, a Democrat, also criticized Mississippi Gov. Haley Barbour, telling Brown, "I would have liked to have seen him have a greater sense of urgency right from the beginning."
"Of course, we don't want to scare our citizens or drive off our tourism industry," said Moran. "(But) all of our elected officials along the Mississippi Gulf Coast went through (Hurricane) Katrina. We know what to do for hurricanes. (An) oil spill, this is new for us. We don't like sitting on our hands and doing nothing."
Moran also discussed her tour around the shoreline of her city, Ocean Springs, with a CNN crew Monday. Moran reported to Brown.
"What we're seeing actually is minimal tar balls anywhere from a penny to half-a-dollar size. They are tacky."
FOLLOW THIS TOPIC


Oil disaster: Tracking the numbers
Part of complete coverage on

A number of organizations are recruiting volunteers to help clean up coastal areas

Get the numbers, see the images and learn how the worst U.S. oil spill has changed lives, ruined economies and more.

These stories help us look into the lives of the hardworking people of the Gulf as they watch this disaster take its toll.

Is your area being affected by the spill? Help CNN track the oil slick and its effects on Gulf Coast communities and wildlife


Most popular stories right now