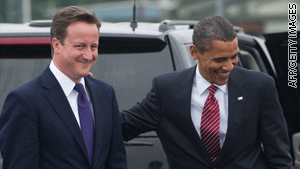 U.S. President Barack Obama greets British Prime Minister David Cameron at the G8 meetings in Toronto, Ontario.
STORY HIGHLIGHTS
NEW: Police arrest at least 180 outside summit Saturday
NEW: Obama, British PM discuss economy, BP oil gusher
Communique also mentions Israel and fighting criminal and terrorist networks
Protests erupt in Toronto as G-20 meetings begin
Toronto, Ontario (CNN) -- The Group of Eight rich nations focused on recovery from a global economic crisis in their two-day summit but made note of other thorny issues in their final statement issued Saturday.
In it, they singled out Iran and North Korea for criticism.
G8 leaders condemned North Korea's communist government for its alleged role in the March 26 sinking of the South Korean navy ship Cheonan that killed 46 sailors.
"Such an incident is a challenge to peace and security in the region and beyond," the G8 final communique said.
"We demand that the Democratic Peoples' Republic of Korea refrain from committing any attacks or threatening hostilities against the Republic of Korea," the statement said.
The eight leaders expressed grave concerns for the nuclear ambitions of North Korea as well as Iran.
The G8 demanded North Korea "abandon all nuclear weapons and existing nuclear and ballistic missile programs, as well as proliferation activities, in a complete, verifiable and irreversible manner."
Of Iran's nuclear program, the leaders said: "We are profoundly concerned by Iran's continued lack of transparency regarding its nuclear activities and its stated intention to continue and expand enriching uranium.
"Our goal is to persuade Iran's leaders to engage in a transparent dialogue about its nuclear activities and to meet Iran's international obligations," they said.
The leaders of the United States, Canada, France, Germany, Britain, Italy, Japan and Russia issued their statement as they wrapped up meetings at a resort in Muskoka in Ontario, Canada.
They were meeting with a broader G-20 group of leaders later Saturday in Toronto.
Meanwhile, protesters, who have become a hallmark of the global meetings, came face to face with police in riot gear in downtown Toronto.
Police arrested at least 180 protesters Saturday outside the G-20 summit. Police made 32 arrests on Friday, said April DeQuanne of the summit's security unit.
No major injuries have been reported. Police have used tear gas and pepper spray on individual protesters, but not on groups, she said.
The crowds were not as large as anticipated nor as violent as some previous demonstrations in other cities. But vandals broke windows of several businesses, including a bank and a Starbucks, and set at least two police cars on fire.
A spokeswoman for the University Health Network said its four hospitals were on lockdown. That meant that photo identification was required to gain entrance, Jill Howard said.
In their statement, the G8 leaders also urged the Israelis and Palestinians to create conditions conducive to direct peace talks.

Video: Police cars ablaze at G-20

Video: Why the G-20 matters
They said they deeply regretted the loss of life in the Israeli raid of a Gaza-bound aid flotilla and welcomed Israel's announcement of a revised policy toward the Palestinian territory to address the economic and humanitarian needs there.
"The current arrangements are not sustainable and must be changed," the communique said.
The leaders also praised the new START treaty between the United States and Russia that is intended to reduce nuclear weapons.
"We call upon all other states, in particular those possessing nuclear weapons, to join these disarmament efforts, in order to promote international stability and undiminished security for all," they said.
They addressed one more issue that they said undermined stability in Latin America, the Caribbean and Africa: maritime piracy and growing links between criminal and terrorist networks.
For U.S. President Barack Obama, the high-stakes summit took place against a backdrop of continued economic uncertainty, with demands for more government stimulus balanced against fears of runaway deficits.
After meeting with British Prime Minister David Cameron, Obama told reporters that the two leaders had discussed "the importance of our two countries focusing both on the issues of growth, but also on the issues of financial consolidation, that we have longterm deficits that have to be dealt with and we have to address them."
Though they may go about it in different ways, the two countries share the same goal, "which is long-term sustainable growth that puts people to work," he said.
For his part, the leader of Britain's Conservative Party said he shared Obama's concern about addressing the deficit. "But of course we want to do it in a way that encourages growth, and that's why we're focusing on spending reductions rather than on big tax increases," Cameron said.
While Obama and Cameron did not mention the BP oil spill while speaking to reporters, Cameron did raise the issue during the meeting, U.S. Deputy National Security Advisor Ben Rhodes said.
"They agreed that BP has an obligation to stop the leak, clean up the spill, and pay legitimate claims," he said.
Obama was expected to announce later Saturday his intentions to complete the Korea-U.S. Free Trade Agreement, a senior administration official said.
"To create jobs and improve the economy for all Americans, the president will announce today following the bi-lateral meeting with South Korea that he is launching an initiative to complete the Korean-U.S. Free Trade Agreement," the official said. "The president has asked (U.S. Trade Representative) Ron Kirk to initiate new discussions with his Korean counterpart to resolve the outstanding issues in a way that levels the playing field for U.S. producers, with the objective of completing that process by the president's visit to South Korea for the next G-20 meeting in November."
Obama would then submit the agreement to Congress, the official said.
CNN's Dan Lothian, Jeanne Meserve and Chuck Johnston contributed to this report.
FOLLOW THIS TOPIC