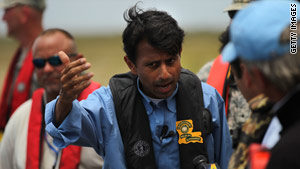 Gov. Bobby Jindal on June 15 tours an area off Grand Isle, Louisiana, that was damaged by the oil spill.
STORY HIGHLIGHTS
Project began earlier this month to protect the state's coast from oil spill
Interior official says state was notified of potential environmental issue in May
Jindal says state intends to replace dredged sand in "weeks, not months"
(CNN) -- Louisiana Gov. Bobby Jindal had harsh words for government authorities on Wednesday after sand-dredging operations to protect the state's coastline from the BP oil disaster were halted due to environmental concerns.
"This is a war," Jindal said of the fight to protect shorelines from the approaching oil. "Every hour, every day matters. Maybe they don't see the oil from Washington [but] we see it every day on our coast."
Jindal called on the U.S. Fish and Wildlife Service and the Army Corps of Engineers to let workers resume dredging off the Chandeleur Islands. The dredging would be followed by construction of berms in hopes the offshore berms would block oil before it hit the beach.
The issue stems from the original proposal Louisiana submitted for the project, which raised concerns among scientists and wildlife officials about its proximity to the state's sensitive barrier islands, said Tom Strickland, the assistant Interior Secretary for Fish, Wildlife and Parks.
"It's well known that there has been substantial erosion and deterioration of the natural barrier island chains that have existed off the coast of Louisiana," Strickland told reporters in a conference call Wednesday. "The diminishment and erosion of those barrier islands have in fact made the coastline more vulnerable to storm surges and so as those storms erode the integrity of the barrier islands, they then hit the coast with more force and they endanger human lives and the ecosystems even more."

Video: Oil driving sharks to shore

Video: Two oil recovery workers die

Video: BP gas stations fight boycott

Video: 9/11 offers guide to Gulf claims
Strickland said that when state officials submitted their proposal for the project in May, "it was immediately identified that one of the sources of the sand was going to be ... very problematic for the integrity of what remained of portions of the Chandeleur Islands."
Louisiana officials amended their proposal on May 14 to reflect that dredging would take place only in an area recommended by government officials, Strickland said.
However, once dredging began on June 13, the state's contractors approached the Corps of Engineers and said they did not yet have a two-mile long pipe required to reach the recommended dredging area, according to Strickland.
In the meantime, the state said it wanted to start dredging from the area proposed in its initial application for the project while contractors waited to get the necessary pipe in place. The government agreed and gave Louisiana a week. That deadline expired Tuesday "at which point they came to us and said they needed another 10 days [to get the pipe in place] ... outstanding the fact that they had agreed to this very permit condition back on May 14," Strickland said.
"There are serious concerns ... as to what the affect of another week to 10 days of dredging might be on the integrity of what remains on these islands," Strickland added. "With that in mind, the issue has been joined with the state ... and as of the time of this call, no final decision has been made."
On Tuesday night, Garret Graves, the chairman of the Coastal Protection and Restoration Authority of Louisiana, said the state wants "to make sure that there is a seamless transition to a new borrow site."
"This will require somewhere around eight days to lay pipe," he said. "We were asked to shutdown dredging operations while the pipe is being laid rather than continuing to build berm while the pipeline to the new site is established."
Meanwhile, Jindal scoffed at the government's concern for the barrier islands.
"We've been losing 300 feet every year off these islands -- where has the federal government been?" he told reporters after touring the dredging site Wednesday. "All of a sudden when we're building new land to protect our coast, they're worried about a hypothetical."
He added that the state has plans to replace "every bit of the dirt that we're dredging ... in weeks not months."
But Strickland said "it's not as simple as it seems."
"If you replace borrowed material on land you can pretty well see what you've got and you can replace it to it's previous condition," he said. "When you're replacing sand that has been packed down with loose sand that has been pumped in, you're not going to get the same kind of bonding on it, so it's at best a more limited repairing of what's been taken out."
FOLLOW THIS TOPIC