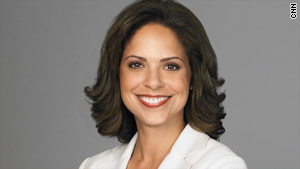 CNN's Soledad O'Brien
STORY HIGHLIGHTS
"Gary and Tony Have a Baby" looks at two men's struggle against the legal and personal obstacles to become parents.

Documentary has started a debate with many tentacles

The coverage is part of a larger Gay in America initiative
The concept of family can mean one thing to you and another to someone else. Soledad O'Brien follows a same sex couple in their struggle against the legal and personal obstacles to become parents. Can these men achieve a life as mainstream as their parents? Watch "Gary and Tony Have a Baby," June 24, 8 p.m. ET
I settle into my chair on the set of "Larry King Live." The familiar light board map of the U.S. glows prominently behind us. Larry is celebrating his 25th anniversary this year. I've come on to talk about my new "In America" documentary: "Gary and Tony Have a Baby." Twenty-five years ago, Larry interviewed starlets, politicians and newsmakers. His first gay guests often spoke about AIDS. Today his show profiles my characters, gay men having a baby with a surrogate. A lot has changed in a quarter century.
Tony Brown, of Gary and Tony, is with me. He used to be an actor, the kind of guy who might have some day made it on Larry's show to talk about his latest role. Instead, he was cast in Jeffrey, a 1995 play about a gay man who swears off sex because of the AIDS epidemic. Tony played Jeffrey's love interest, a hunky gay man who is also HIV positive. The role transformed his life. He dropped acting and became an activist for gay civil rights. We have pictures of him in our documentary, muscle-bound and wearing a tank top, marching the streets of New York and staging acts of civil disobedience.
But a lot also changed for Tony over the years. As we settle in to do the show, Gary's face pops up via satellite from New York. He is back in my offices with their 6-month-old son Nicholas. These gay activists have refocused their lives on fighting for gay families. Their work has meant that 5 U.S. states now allow gays limited marriage rights. They can go to court to make both of them legal parents to Nicholas. Their once "radical" activism looks pretty much like a regular couple forming a traditional family.
The documentary represents the face of my new initiative, In America with Soledad O'Brien. The idea is to do in-depth stories about communities whose voices often get lost in the cacophony of daily newsgathering. The concept was born with Black in America about 2 years ago as a 2 day, 4-hour documentary surveying the black community. We had trouble representing everyone because the community was so vast. So we are now on Black in America 3. With "In America: Gary and Tony Have a Baby," we are trying out a new concept. That documentary is a one-hour tightly focused look at the journey of two people, a way for viewers to watch a human drama unfold organically rather than experience communities as issues or topics of debate. It is part of a larger Gay in America initiative that includes stories about black lesbians marrying in their Washington church, gay teens in Mississippi trying to stem violence in their schools and Atlanta gay families talking about how they had their children.

Video: Gary and Tony want a baby

Video: 'Gary and Tony Have a Baby' trailer
Tony, and his partner, Gary Spino, would sound very much like any couple if it wasn't for the obstacles they face. They have spent a small fortune on lawyers and social workers and doctors trying to make their family. Their son is the product of Gary's sperm and an egg donated by a woman they met through an agency. A surrogate carried the baby. They went to court to do a second-parent adoption which makes Tony the legal second parent of Gary's biological son. Since they are two men, they cannot get married in the U.S. So they now both have a legal relationship to their son but no relationship to each other in the eyes of the federal government. This is the face of Gay in America today.
Tony and I are in LA to do a premiere screening of the documentary. The Gay Lesbian Alliance Against Defamation (GLAAD) has gathered about a hundred members of its community to see what we've produced. The discussion moves quickly past the story of these two men, which is exactly what we want. Jarrett Barrios, GLAAD's director, talks about how he came out many years ago, fought for and won the right to have a state marriage in Massachusetts where he lives. He thought he'd made his world a more welcoming place. What he didn't count on was that his adopted teenage sons would have to fight the same battle all over again, even though they are not gay. One of his sons recently started dating but didn't want to bring his girlfriend home to meet his fathers. He realized that his son had to come out just like he had. He had the discomfort of revealing he has gay parents.
Tony and Gary are still in the early stages of being gay dads. They are bold and unafraid of charting new ground. But their families worry. Gary's mother talks in our documentary about how her small town hasn't accepted gay families the way they have in some big cities. Tony's mother worries about what "uneducated" people will think when they see a boy with two dads. So far the only challenges they've faced come from the gay community. People keep asking why they didn't adopt. They both say they wanted their own biological child and hasten to add that makes them just like any other couple. That answer doesn't seem to be enough. They get asked the question again at a New York screening and twice more in Atlanta. The Atlanta questioner accuses them of looking selfish. Tony asks him why gay people shouldn't want what heterosexual parents have, why they have a bigger obligation to take adoptive children even if they don't feel up for it. Our documentary has started a debate with many tentacles.
What's most interesting is watching a community marked by bold activism feuding about family values. Gary and Tony belonged to Act-up in the early days of street theater and angry resistance. Now their commitment is to changing laws that hamper their desire to have a life just like their parents. They had a wedding in Canada. That marriage is recognized by the state of New York, giving them some limited state rights. But it's not nearly what they want. My parents did something similar so I understand the situation they face. My father is white and my mother is black. They could not legally marry in Maryland where they lived so they traveled to Washington D.C. They had 6 children before the federal government allowed interracial couples to marry. The push for marriage rights is as much about achieving benefits like social security as it is about changing society.
Gary and Tony's opponents have scored some major victories. Thirty states have passed constitutional amendments forbidding recognition of marriages between couples of the same sex. The Defense of Marriage Act prohibits the U.S. government from recognizing them on the federal level. Gary's own Catholic Church, where he has attended mass since he was a boy, fought hard to convince his home state to ban same sex marriage.
There is some movement in the gay rights struggle. The "Don't Ask, Don't Tell policy is on the brink of repeal and Congress is closing in on legislation to ban workplace discrimination on the basis of sexual orientation. A recent CBS poll said that 8 in 10 Americans now say they have a gay person in their lives. That statistic was accompanied by a majority of Americans saying they support legal protections for gays against discrimination. The younger the respondents, the more they want to see gays able to marry or serve openly in the military. That does not mean any of those things will happen quickly, or even at all. But it does spell a shift in attitudes.
For Gary and Tony, creating a family has been as much about money and perseverance as it has about social change. We surveyed the 3 surrogacy agencies who are willing to work with gay couples and they estimate there have been no more than 1,000 gay men who have had children with surrogates. The process can run as high as $160,000. Gary and Tony inherited money from an elderly neighbor who they had befriended. Our story about them is just about one way that gays and lesbians have created families; it is as much about that journey as it is about the details of making babies. There are many more thousands of lesbians having biological children with sperm donors, including a couple that had a little girl using Tony's sperm. Our documentary opens a window for the public to see how these new families are taking shape, regardless of their position on gay issues. It charts the evolution of a community by giving an inside peak. The face of gay America is changing. That is evident when you see Tony and Gary beaming on Larry King Live with me, discussing their family life.
-- with Rose Arce
FOLLOW THIS TOPIC