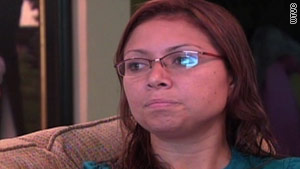 Aline Wright was rushed to the hospital when she began showing signs of a possible stroke.
STORY HIGHLIGHTS
Police "deeply regret" incident and hope to meet with the couple soon
Couple believed wife was having a stroke
Police officer says man's driving endangered others
Officer on paid leave pending internal affairs investigation
(CNN) -- Chattanooga police Tuesday dropped charges against a man arrested for speeding and other violations as he tried to rush his wife to a hospital when it appeared she was having a stroke.
Police spokeswoman Lt. Kim Noorbergen said Hamilton County District Attorney General Bill Cox and Chattanooga Police Chief Mark Rawlston had reviewed the case of Eric "Jessie" Wright "and concluded the necessity for Mr. Wright to reach the hospital with his wife was greater than the offenses he was charged and arrested for."
"We deeply regret this incident has occurred and hope to meet with Mr. and Mrs. Wright at their earliest convenience to discuss the events of June 16," Noorbergen said, adding that an internal affairs investigation would continue and that the police department would also review policy and procedures to determine whether any changes should be made.
The officer involved, James Daves, was placed on paid administrative leave pending the conclusion of the internal affairs investigation, she said Monday.
Wright told CNN that he and his wife, Aline, were at their home Wednesday night when she began showing possible signs of a stroke, with symptoms including numbness in her arms and a facial droop. His wife, who lost a leg to cancer, ran the risk of having a stroke because of the chemotherapy used to fight the cancer, he said.
Wright, a trained emergency medic, said he took his wife's vital signs and decided to take her to the emergency room at nearby Erlanger Medical Center, where they both work. An ambulance would have taken an additional 20 to 30 minutes, he said.

Video: Man arrested for rushing wife to hospital
Wright said after carrying his wife to their car, he called the medical center to report that they were on the way, and he drove with his emergency blinkers on, blew his horn and was cautious as he crossed the red lights.
Daves fell in behind Wright at an intersection, with his police car lights and siren on. Wright said he was too close to the hospital to stop, and upon arrival he immediately carried his wife to the emergency room because she did hot have her prosthetic leg.
The police officer confronted Wright and told him that he was going to send him to jail, Wright said. Wright said Daves also referred to him with an obscenity.
Daves could not be reached for comment. In his affidavit, in addition to saying that Wright nearly caused a collision, Daves wrote: "(The) defendant stopped in the ER entrance and jumped out and ran. Police made contact with Defendant at the passenger side of his vehicle and I grabbed the defendant's arm and he pushed me away scraping my arm with his fingernail. Defendant yelled and said it was an emergency.
"Defendant pushed through the crowd and carried a female back into the emergency room and placed her in a room with no permission of the hospital staff," Daves wrote.
He also said Wright's registration was expired.
Wright told CNN that at the hospital, Daves threatened to file felony charges against him. He said that after spending the night with his wife, he went to the jail to turn himself in. Jail personnel told him there were no warrants for his arrest, Wright said
But Friday morning, he was taken into custody by hospital security officers and taken to the Hamilton County jail where he spent the day before he was released on $7,500 bail, charged with seven felonies, Wright said.
All of the charges -- evading arrest, assault on a police officer, reckless endangerment, disorderly conduct, registration violation and several traffic violations -- were dropped, Noorbergen said.
Wright said he feels that Daves' actions at the emergency room endangered his wife's health "and that he (Daves) was trumping up charges to get back at me."
CNN affiliate WTVC reported that Aline Wright was out of the hospital by Friday morning and, while she had stroke-like symptoms, she was not diagnosed as having had a stroke.

FOLLOW THIS TOPIC