Senator says BP violating law on blowout preventers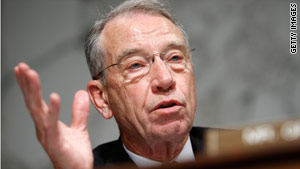 Sen. Charles Grassley questioned BP in a letter, asking if it has compiled with regulations from the MMS.
STORY HIGHLIGHTS
Grassley says BP not following MMS regulations
Senator accuses MMS of "looking the other way"
Demands communication between BP, MMS
(CNN) -- BP claims it was not government regulators' practice to follow regulations on blowout preventers, according to a letter from Sen. Charles Grassley obtained by CNN.
The letter, dated June 16, was written to BP Chairman Lamar McKay. Grassley had questioned whether BP has complied with regulations from the Interior Department's Minerals Management Service for oil rigs leased and operated by BP in the Gulf of Mexico.
The company responded by stating: "BP has submitted applications for permits to drill in accordance with the process prescribed by MMS officials, including submission of all applications, forms and pertinent documentation required" or requested by such officials, Grassley said in the letter.
"BP is not aware of any MMS practice requiring an applicant to attach to its initial application proof of the strength of the blind shear rams on the blowout preventer," the letter states.
However, MMS regulations quoted in the letter state blowout preventer information submitted to the government must show "the blind shear rams installed ... are capable of shearing the drill pipe in the hole under maximum anticipated surface pressures."
Grassley said in the letter that he found it "very disturbing that BP asserts that the 'practice' in oil drilling is to avoid current laws to keep our beaches safe. And I am outraged that MMS is looking the other way."
He demanded any communication between BP and any employees of MMS "that may confirm that MMS allowed BP to violate the law, receive a waiver from applicable law and/or not comply with MMS regulations."
Interior Department spokeswoman Kendra Barkoff said that the "stronger regulatory structure, tougher safety requirements, and new leadership" the department "is putting in place will bring about fundamental changes to how our nation oversees offshore oil and gas operations."
"Without question, we must raise the bar for offshore oil and gas operations, hold them to the highest safety standards, and see to it that they are following the law, rather than cutting corners," she said. "We will also be implementing reforms and recommendations that we expect will come from the presidential commission and other ongoing investigations."
FOLLOW THIS TOPIC


Oil disaster: Tracking the numbers
Part of complete coverage on

A number of organizations are recruiting volunteers to help clean up coastal areas

Get the numbers, see the images and learn how the worst U.S. oil spill has changed lives, ruined economies and more.

These stories help us look into the lives of the hardworking people of the Gulf as they watch this disaster take its toll.

Is your area being affected by the spill? Help CNN track the oil slick and its effects on Gulf Coast communities and wildlife


Most popular stories right now