Slain Arizona rancher told family illegal alien needed help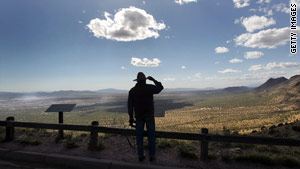 A rancher scans the Mexican border from Arizona, which critics say has less protection than Texas and California.
STORY HIGHLIGHTS
Robert Krentz spoke to family via radio shortly before his slaying
Krentz's killing has become a flash point in the debate over illegal immigrants
Edited police report offers detailed timeline of events surrounding killing
(CNN) -- An Arizona rancher who was killed in March transmitted a radio message to family shortly before he was shot to death, according to a newly released report from the Cochise County Sheriff's Department.
Robert Krentz's brother Phil told officers that Krentz said over the radio that he had seen an illegal alien on his 35,000-acre ranch who appeared to need help, then they never heard from him again.
Another local rancher told sheriff's deputies he overheard the radio communication between the Krentz brothers. That rancher's name has been blacked out in the heavily redacted police report. He corroborated Phil Krentz's statement. He remembered Robert Krentz saying it appeared the illegal alien was hurt and someone should contact Border Patrol.
The police report says the shooting happened around the same time as that communication.
About nine hours after the last radio transmission, Krentz was reported missing. Search and rescue teams found his body about five hours later.
The police report says officers followed a trail of evidence approximately 20 miles south, into Mexico, but no suspects have been named yet.
Krentz's slaying has become a flash point in the debate over illegal immigrants that's roiled Arizona since the passage of S.B. 1070 in April. That law requires police in the state to ascertain a person's immigration status "during any legitimate contact ... if reasonable suspicion exists that the person is an alien who is unlawfully present in the U.S."
Democratic Rep. Gabrielle Giffords of Arizona called for the National Guard's deployment immediately after the killing. On May 25, the Obama administration announced it would deploy up to 1,200 more National Guard troops to the U.S.-Mexico border to help with drug enforcement and intelligence efforts until Customs and Border Patrol can recruit and train additional officers and agents to serve on the border.
FOLLOW THIS TOPIC