STORY HIGHLIGHTS
NEW: Man dies in flooding in Lawton, Oklahoma
NEW: Mayor says just 1 square mile of Oklahoma City affected
Girl stops on way to work to help stranded driver, is swept away
Raquel Dawson swims from tree to tree for two hours before TV helicopter spots her
(CNN) -- An Oklahoma teenager who saved a woman from raging floodwaters soon found herself fighting for her own life before being rescued with the help of a television news helicopter.
Raquel Dawson, 17, of Oklahoma City was walking to work in heavy rain Monday when she spotted a woman stranded in a car as a rising river swamped a street.
"She was struggling," Dawson told CNN affiliate KWTV. "I just have this thing where if I see someone in trouble, I have to go try and help."
Dawson told CNN's "American Morning" that she helped the woman get to a line of trees and then set off -- swimming -- to find help.
Then Dawson got into trouble herself, surrounded by the rapidly rising, dangerously fast-moving water. The woman she had helped was rescued, but Dawson disappeared amid the muddy water and thick trees, and rescuers launched a frantic search for her.
The drama played out as severe thunderstorms across Oklahoma triggered flash flooding that killed a driver in Lawton and left 136 people injured and thousands without power.
"I started shaking really bad while I was swimming, and I thought I was going to pass out," Dawson told KWTV. "I thought I was going to die."
Fortunately, Dawson is a strong swimmer who has been taking lessons since she was a small child.

Video: Girl clinging to tree rescued

Video: Flash floods sweep through OK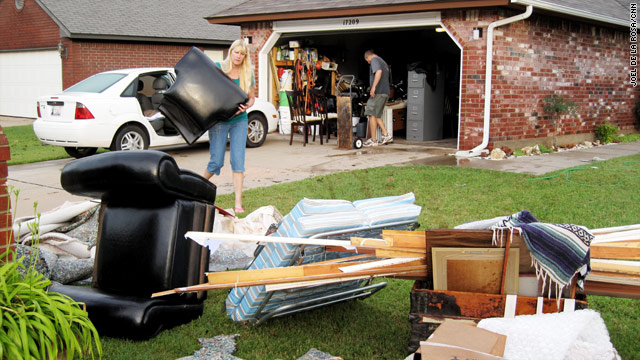 Gallery: Oklahoma flooding cleanup
"The current just got stronger and the water got deeper and I ended up going from tree to tree trying to get to the road," she told KWTV.
Finally, after two hours, KWTV helicopter pilot Mason Dunn spotted her.
"She's still swimming, and you can see the current. She's just hanging onto trees here, guys," Dunn told anchors back in the studio as the rescue effort was aired live. "Deadly situation here. They need to get over here quick, 'cause I can tell she's getting really tired."
Rescuers watched Dunn's live aerial coverage to get a fix on Dawson's location and a route to reach her, with Dunn at times speaking directly to them over the air.
An airboat sent out to retrieve her was overwhelmed by the current and capsized, so a second boat had to be launched to rescue the rescuers.
"The Good Lord smiled on us and everybody made it back to shore," Oklahoma City Fire Department Lt. Mark Edwards told CNN.
While the rescue team was being pulled to safety, Dawson was still fighting the flood.
"It is very difficult to swim in swift water," fire department Cpl. Josh Pearcy told CNN. "Generally, you'll swim forward as it's pushing you downstream. [But] she did great and used the water and swam with the current and got to a tree line where she could grab hold of something, which is excellent."
Pearcy and Edwards reached Dawson at last in a Zodiac inflatable boat and carried the exhausted teen to dry land. She was was able to go home for supper after being checked out at a hospital for scrapes and bruises.
"Just minor stuff," she told CNN.
The sun was shining Tuesday in Oklahoma City. Mayor Mick Cornett said just one square mile in the city's 500-year flood plain was significantly affected.
"We just couldn't handle it," Cornett told CNN on Tuesday. "We're typically a city that just does not have very many flooding issues at all, but, boy, we couldn't handle yesterday's at all."
CNN's Mark Morgenstein contributed to this report.
FOLLOW THIS TOPIC