Coast Guard seeking new ideas on dealing with oil disaster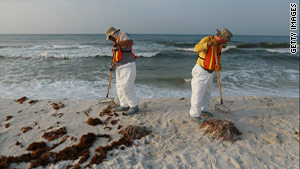 Workers clear Pensacola Beach in Florida as oil residue washes up on shore Monday.
STORY HIGHLIGHTS
Coast Guard wants ideas separate from those offered to BP
Officer says "some feedback" shows BP not responding to ideas being offered
Ideas will be studied by new panel of experts
Washington (CNN) -- The Coast Guard has started an initiative separate from BP to seek the best ideas that industry, universities, researchers, scientists and the public have to offer to try to contain the oil spill from the Deepwater Horizon in the Gulf of Mexico.
The Coast Guard has published details of its efforts to solicit ideas to show the public it wants to hear from them separately from any ideas submitted to the oil giant.
"Our intent is to provide a process totally divorced from BP," Lt. Cmdr. Chris O'Neil said. He said there had been "some feedback" from the public that BP was not responding to ideas being offered, but he did not have any details.
The Coast Guard specifically wants the best ideas for improving the response and detection of oil spills, control of oil wellheads, how to deal with submerged oil spills, traditional and alternative oil spill technologies, and assessment of oil spills and environmental restoration.

Video: Understanding oil plumes

Video: Grabbing oysters ahead of the oil

Video: Scientists show oil plume evidence
The ideas will be looked at by the Coast Guard and a new panel of experts known as the Interagency Alternative Technology Assessment Program working group. That group includes experts from the Coast Guard, the National Oceanic and Atmospheric Administration, the Departments of Interior and Agriculture and the Environmental Protection Agency.
O'Neil says the submissions will be screened and put into three categories: those with the potential to immediately help the current oil spill response effort, those that need more evaluation by government experts and those that cannot be of help.
One of the benefits of the entire effort may be a better understanding of whether technologies to respond to oil spills have kept up with offshore oil drilling and production technology.
FOLLOW THIS TOPIC


Oil disaster: Tracking the numbers
Part of complete coverage on

A number of organizations are recruiting volunteers to help clean up coastal areas

Get the numbers, see the images and learn how the worst U.S. oil spill has changed lives, ruined economies and more.

These stories help us look into the lives of the hardworking people of the Gulf as they watch this disaster take its toll.

Is your area being affected by the spill? Help CNN track the oil slick and its effects on Gulf Coast communities and wildlife


Most popular stories right now