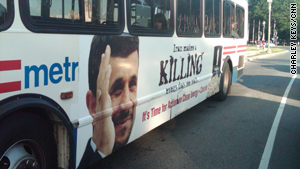 The ad on the side of buses reads "Iran makes a KILLING every day we wait."
STORY HIGHLIGHTS
Ads on buses and billboards, showing Iranian president, tout clean energy legislation
"Iran makes a KILLING every day we wait," the ads say
Iranian-American group says ads are provocative, urges their removal
Washington (CNN) -- Have you seen Iranian President Mahmoud Ahmadinejad waving at you as you drive around your city?
The Iranian leader -- or at least his photograph -- zips around the nation's capital on the side of buses. And he's also popping up on billboards from Miami to St. Louis.
Ahmadinejad seems to be smiling and waving. But the words are deadly serious.
"Iran makes a KILLING every day we wait" the ad says. The word "KILLING" is in all caps and dark letters next to a barrel of oil and a pile of American dollars. It takes a closer reading to learn the advertisement supports clean energy legislation pending in Congress and an end to U.S. dependence on oil imports from countries like Iran.
"It's obviously a bus ad. You can't have a long essay," said Eric Sapp, executive director of the American Values Network, creator of the ads. "We wanted to get people's attention."
Some of the estimated 1 million Iranian-Americans in the United States are paying close attention. And the National Iranian American Council is demanding the ads be removed, calling them insulting, simplistic and destructive.
Jamal Abdi, policy director for the National Iranian American Council, is meeting this week with the American Values Network. In a letter, Abdi said the ads are provocative and look like they are advocating war against Iran.
"We take issue not with your ultimate goal of combating climate change, but rather with the destructive manner in which your message is being delivered and the unintended consequences it may help produce," the NIAC letter says. "Therefore, we strongly urge you to acknowledge the consequences of your ad campaign and to take immediate action to remove the ads in question."
Read the letter to the president of the American Values Network
Sapp says the ad serves as a reminder that issues like climate change and national security can intersect. "A lot of people understand energy legislation is the right thing to do. We're telling people to do the right thing and the patriotic thing -- and that doing nothing results in significant amount of money going to our enemies."
Sapp says Iran takes U.S. money for oil and turns it against Americans.
"They are clearly a threat. They're responsible for the bullets and bombs that kill our troops," he said.
The ads, and the disagreement about their appropriateness, come at a time when the United States is trying to pressure Iran to halt its nuclear program; and there is talk of additional action, up to and including military action, if diplomacy fails.
Its critics worry that the ad campaign makes an already toxic political environment even worse.
Read the American Values Network's web posting
"It kinds of piggy-backs on a serious debate we are having, and it does so in a very reckless way," Abdi told CNN.
The American Values Network calls itself a group of people of faith and others of good will and claims it tries to build support for progressive issues in a new way. Its Web site says U.S. Senate delay costs Americans dearly. "Every day the Senate waits to pass clean energy legislation, Iran makes $100,000,000.00 more on the global oil market. A report by the Massachusetts Institute of Technology demonstrated that the changes resulting from the clean energy legislation being considered in Congress right now would reduce Iran's income from oil sales by $100 million per day," the Web site says.
One of the authors of the MIT report says the American Values Network estimates "seems in the ballpark."
Senior Lecturer John Reilly told CNN that the $100-million-a-day figure in fact applies to oil imports not just from Iran or the Middle East. "The basic idea that such legislation would reduce oil dependence by an amount like this is sound," Reilly said.
Abdi is not convinced. He bristles that the ad lumps all Iranians with Ahmadinejad and is hurtful to Iranian-Americans who call the United States home. "I haven't talked to anyone who says this has contributed in any meaningful way to either the debate over Iran policy or environmental issues," he said.