Dad walking cross-country to help wounded troops' families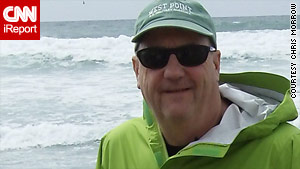 John Conte plans to raise $50,000 to help build "comfort homes" for military families.
STORY HIGHLIGHTS
Soldier's father will walk from California to Georgia
Going solo with five pairs of running shoes, two pairs of hiking boots
"Comfort homes" house injured troops' families near military hospitals
(CNN) -- Inspired by his West Point cadet son, a California man set out on a cross-country trek to raise money for an organization that supports wounded troops and their families.
John Conte of San Diego began his walk at Camp Pendleton on the West Coast and expects to wrap up at Fort Benning, Georgia, sometime in July.
His goal is to raise $50,000 for Fisher House to help it build more "comfort homes." Such homes provide housing for injured soldiers' families near a hospital where their loved one is recovering. There is at least one Fisher House at every major military medical center.
CNN iReport: Watch Chris Morrow's interview with Conte
"I'm going to have at least five pairs of running shoes," Conte said. "I've got two pairs of hiking boots, and I'm going to sleep occasionally in the car. Sometimes I'll camp in a tent, other times I'll stay in a motel or hotel."
Conte, 56, said he decided to assist soldiers and their families after having his son and a half-dozen of his cadet graduate friends over to the family home last summer.
He began training by walking five miles a day, he said. "But that quickly went up to 10 miles a day, and since October I've been doing 15 to 18 miles a day."
Conte will make the trip solo, using his car to help map out his route. "I'll drive 20 miles ahead each day, walk back 10 miles, then turn around and go back to the car, making it 20 miles total," he said.

Part of complete coverage on

Be part of the solution. Get informed, connect to organizations and share how you have made an impact
Weeks after flooding first displaced millions of people in Pakistan, the crisis is far from over

The cleanup efforts for the largest oil disaster in U.S. history could continue for years


Most popular stories right now