STORY HIGHLIGHTS
Hong Nguyen saved his family as South Vietnam fell 35 years ago
Nguyen, an army officer, spent 11 years in brutal re-education camps
Nguyen's wife, Que Pham, scratched out a living in his absence
Now a U.S. citizen, he's made his home a monument to his homeland
Editor's note: CNN.com is collecting tales of the Vietnamese diaspora. Here is one family's story. If your family left Vietnam after the war, tell us about it here.
Decatur, Georgia (CNN) -- The Vietnam War ended with the fall of Saigon 35 years ago this week, but Hong Nguyen will never surrender.
Nguyen's story is just one among millions from Vietnam's tragic war era, but it's also one that ultimately resolves in triumph.
Nguyen was a Republic of Vietnam army major stationed in Da Nang when the port city was bombarded by the enemy North Vietnamese army in late March 1975. Commanders in Saigon, 380 miles to the south, offered no guidance or information, he said.
"It was total chaos," Nguyen, now 74 and living in Decatur, Georgia, said through an interpreter. "The only thing anyone knew was that something was wrong. Nobody knew the details, so everyone was on the run."
Nguyen gathered up his wife, Que Pham, their seven children and the family dog and headed for Da Nang's Tien Sa port, hoping to escape on a boat. Thousands of others in the city of half a million had the same idea.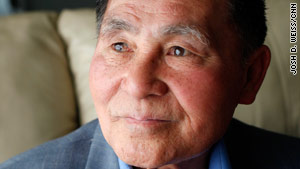 Hong Nguyen, 74, survived 11 years in Vietnamese re-education camps and moved to the U.S. in 1993.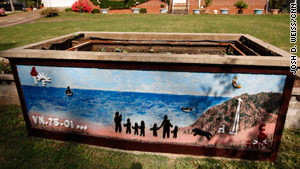 The artwork on Nguyen's front-yard lotus pond is heavy with symbolism.
Nine hours later, Nguyen and his family, along with a few hundred others, were able to board a 500-foot-long barge. (The dog was left behind.) They managed to push off and row out into the South China Sea, but it was no sanctuary. Thugs terrorized the other passengers, taking their cash, jewelry and even clothes.
"They got on with a purpose," said Nguyen, who lost his sidearm and uniform to the ruffians.
The refugees drifted for two days and two nights without food or drinkable water. The thugs killed several people, and others died of dehydration in what Nguyen's family calls "the atrocity."
At last they were rescued by a proper ship, which carried them 295 miles down the coast to Cam Ranh Bay. The next day, they caught another boat to Vung Tau, where Nguyen ran barefoot across scorching sand to find rags in which to wrap his children's feet so they could make the crossing.
The next day, the family rode the remaining 40 miles overland to Saigon, where Nguyen reported for duty at the national security section office.
Despite the chaos up north, it was business as usual for the military and government for most of April 1975, Nguyen said, even though the Viet Cong and North Vietnamese army were rapidly advancing southward.
"There was still hope, because the western part of Vietnam was still stable, and we believed we could establish ourselves there to resist and defeat the communists," Nguyen said.
The end of the Vietnam War in April 1975 brought a wave of immigrants to the United States.
The U.S. Census Bureau didn't even count people of Vietnamese origin in the 1970 Census, but in 1980 it counted nearly 262,000. The Vietnamese population has roughly doubled every 10 years since.
The Census Bureau counted nearly 1.3 million people of Vietnamese origin in 2004.
It was not to be. With the withdrawal of American troops two years earlier, South Vietnamese forces could not hold off the communist advance. Saigon fell April 30. The war was over.
Nguyen, suddenly out of work with a wife and seven children to feed, operated a bicycle taxi for about six weeks. Then an order came for all officers of the defeated army to report to meetings.
In June 1975, Nguyen and hundreds of thousands of his fellow officers, intellectuals, religious leaders and others associated with the losing side were arrested and sent off to communist "re-education camps" for however long their keepers decided.
Nguyen spent the next 11 years being thrust into a series of filthy camps, subjected to desperate living conditions, intense indoctrination and hard labor in the jungle heat and mountain cold. It's not known how many inmates died from disease or were worked or starved to death in the camps.
Nguyen's wife, Que Pham, was left to fend for herself.
"My wife and children barely made a living by selling vegetables at the flea markets and collecting plastic bags to recycle," he said.
The government tried to entice detainees' families to move to remote settlements in the countryside, but Pham held out.
"These women were hopeless," Nguyen said. "They had to support themselves, raise their children, while being taken advantage of and were left without anything. They were deceived with promises that if they would go to these 'new economized places,' their husbands would be released early. ... It was an empty promise."
Outside his Georgia home today, Nguyen shows visitors a statue he fashioned to honor these women's courage and sacrifice. A small figure of a woman holds a child next to a live miniature tree.
I wanted to express my feelings for my country. I want to be recognized as Vietnamese.
--Hong Nguyen
"The communists knew the wives were dedicated to their husbands, but they wanted the wives to go where they could not survive," Nguyen said. They wanted to wipe out a generation and all memory of freedom, he said.
Nguyen finally was released, and the family reunited in 1986, settling in Saigon, by now renamed Ho Chi Minh City, where he worked as a carpenter.
Vietnam's government has liberalized its social restrictions and economy since the mid-1980s, according to the CIA World Factbook, and foreign investment has pumped cash into the country.
Nguyen still despises the communists.
"They use propaganda to improve their image with the American people. They have no noble intention at all," he said of Vietnam's political leaders. "In Vietnam today, the people are oppressed so much."
The communists "still have control by taking advantage of capitalists who supply the money that keeps them in power," he said.
In 1993, Nguyen and his dependents were allowed to emigrate to the United States under a program for former prisoners of the regime.
iReport: Share the story of your Vietnam journey
Nguyen, Pham and four of their children flew to Los Angeles, California. (The three oldest children were not eligible to emigrate because they no longer were Nguyen's dependents; two since have emigrated, and the last is in the process.)
The West Coast was swamped with immigrants, and work was scarce. When the news came that Atlanta, Georgia, would host the 1996 Summer Olympic Games, Nguyen knew that meant jobs. The family moved to Georgia, and the parents soon landed jobs in housekeeping at a downtown hotel.
Hong Nguyen told his story to CNN through two interpreters: Hanh-Hoa Nguyen (no relation), the mother of CNN Special Projects Executive Producer Kim Bui Barnett; and My-Hanh Nguyen, Hong Nguyen's 19-year-old granddaughter, a Georgia State University student who immigrated from Vietnam four years ago.
"Due to the language barrier, it was very hard," Nguyen said. "Completely different culture and way of life. But we are very proud to say that after only eight months of government help, we were able to secure jobs and gradually learned to adapt to the new life."
Pham continued at the hotel for years, gaining the love and respect of her co-workers. She was even elected "queen" in an in-house contest. Her husband proudly shows off a photo of her, resplendent in her traditional Vietnamese gown.
Nguyen moved on to better-paying jobs, first at a furniture factory and then at an auto parts maker in Atlanta. He retired in 2006.
"Our lives have become quite stable," he said.
On the front of the family's immaculate brick ranch home near Atlanta, Nguyen has cultivated vines into a large map of Vietnam. A Vietnamese flag flies above it.
In the center of the front lawn, Nguyen built a concrete box containing a water reservoir, from which elegant lotus flowers rise every summer.
"The lotus pond is the symbol of Buddhism, the religion that our family relies on to guide our belief and conduct," Nguyen says.
The street-facing side of the box shows the silhouettes of two adults, seven children and a dog looking out to sea in Da Nang. A blood-red communist hammer-and-sickle smashes half a sunburst symbol of freedom, while in the opposite corner the letter F for "freedom" holds up the other half of the sunburst, which resembles the tiara of the Statue of Liberty.
The side facing the house shows the Olympic rings and several athletes. Vietnamese words deliver the message, "Stay fit to serve your country." It is painted in the yellow and red of the Vietnamese flag.
"I wanted to express my feelings for my country. I want to be recognized as Vietnamese," said Nguyen, a naturalized U.S. citizen. "I wanted to do something that will remind us of where we came from, how we Vietnamese had to make the decision to be away from our country despite our inexpressible feelings toward it.
"This means we have never and will never forget Vietnam and Vietnamese people, though unfortunately and reluctantly we are apart from them. We always look out for our country and our people."