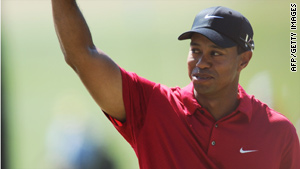 Tiger Woods says on his blog that it "felt great to be in the hunt again."
STORY HIGHLIGHTS
Golfer says on his website that he spent time with family after Masters
Fan support "is something I did not expect and will never forget," he says
Woods congratulates Phil Mickelson on Masters win
He says he has committed to more tournaments this year
(CNN) -- Golfer Tiger Woods says he's back in the swing of things.
Embroiled in a scandal over extramarital affairs, Woods posted an upbeat blog item on his website about his return to golfing, his happiness over fan support and his commitment to play in more tournaments.
Although he didn't make reference to his wife, Woods said that he "took a little time off after the Masters to go scuba diving and spend time with my family."
After the scandal emerged in November, Woods took a hiatus from the game and was working to heal relations with his wife.
Woods has been staunchly private about his family life and personal dealings but has gradually made public remarks and spoken to reporters.
The golfer blogged that it "felt great to return to competition at the Masters Tournament" and "tie for fourth with very little preparation."
"With all that has transpired in my life," he said, that "was pretty cool."
He said he was gratified by the "absolutely incredible" reaction of the fans.
"It was unreal. They definitely helped me mentally to be more comfortable out there. I was hoping for the best. To get that type of warmth is something I did not expect and will never forget."
He said that getting on the course in Augusta, Georgia, and competing "was just like riding a bike again.
"Once the tournament came, everything felt normal, and I fell into my old rhythm and routine. I didn't even think about it; it just happened. My body knew what to do."
He did say he didn't have his "game," even though it "felt great to be in the hunt again."
"I knew I needed to make a run, but I just didn't have one in me. I had a terrible warm-up session Sunday, and it carried over to the first tee."
Woods said he appreciated the support from his peers and was pleased to see them.
"They had been asked a lot of questions in my absence and handled the distractions very well. I appreciate their support, but it felt good to try and beat them again."
"I received some criticism for bad language, which I apologized for immediately after Saturday's round. It's tough when you're in a competitive environment and in the flow of a tournament. I'm not perfect. All I can say is I'm trying to do everything I can without losing my fire and competitive spirit."
He congratulated Phil Mickelson on his Masters win "and for all it means to him, Amy and the entire Mickelson family. They have really gone through a lot this year, and I wish them good health from now on." Mickelson's wife is battling cancer.
He is pleased that the U.S. Open at Pebble Beach this year will be televised in prime time on the weekend.
He said that this week, he committed to the Players Championship and the AT&T National.
"The PGA Tour asked me to commit earlier if I could to help the tournaments with their planning and security. I completely understand and know they're trying to help out me and the other players. Whenever possible, I will continue to do this going forward."
He said he is returning to competition next week at the Quail Hollow Championship in North Carolina.
"Quail Hollow Club is one of my favorite courses on tour. It's traditional, right in front of you, difficult, and you have to shape shots both ways. I managed to win there in 2007 and look forward to going back."