Foul play not suspected in baseball executive's death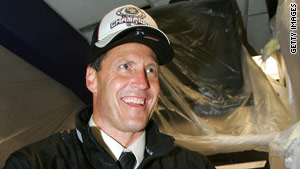 Colorado Rockies President Keli McGregor, pictured in 2007, was found dead Tuesday.
STORY HIGHLIGHTS
Colorado Rockies president's cause of death unknown pending autopsy
He was found in Salt Lake City, Utah, hotel room Tuesday
MLB commissioner calls him "great athlete and ... a great human being"
(CNN) -- Foul play is not suspected in the death of Colorado Rockies President Keli McGregor, whose body was found Tuesday in a Salt Lake City, Utah, hotel room, police said Wednesday.
"An initial investigation didn't turn up anything suspicious," said Salt Lake City police Detective Rick Wall.
However, the cause of the 48-year-old's death was unknown pending autopsy results, he said.
Police received a call shortly before 9 a.m. Tuesday that a man had been found unconscious in a room at the Grand America Hotel, an upscale hotel near downtown Salt Lake City. Medics tried unsuccessfully to revive him.
"Words cannot describe the level of shock and disbelief that we all are feeling this morning at the loss of Keli," team Chairman and CEO Charlie Monfort said in a statement Tuesday. "Our thoughts, our prayers are with [McGregor's wife] Lori and the entire family as we all try to cope and understand how such a tragic loss could occur with such a wonderful man."

Video: Colorado Rockies president found dead
Monfort said he was in Utah on a business trip with McGregor and Greg Feasel, the team's executive vice president.
McGregor had been the National League baseball team's president since October 18, 2001, according to a biography on the team's website.
"As president of the Colorado Rockies, Keli was one of our game's rising young stars. He was a great athlete and equally great as a baseball administrator. Also, he was a great human being," Major League Baseball Commissioner Bud Selig said in a statement Tuesday afternoon. "All of baseball will miss him."
McGregor's online biography says he began working with the Rockies in October 1993 as senior director of operations and was promoted to senior vice president in 1996 and executive vice president in 1998.
McGregor joined the Rockies after working as an associate athletic director at the University of Arkansas for four years.
He was a two-time All-American tight end at Colorado State University and was drafted by the Denver Broncos in the fourth round (110th overall) of the 1985 NFL draft. He played for the Denver, Indianapolis and Seattle football teams. He also coached football at the University of Florida for two seasons, in 1988 and 1989.
His online biography says McGregor and his wife lived in Golden, Colorado, and have four children. He was born in Primghar, Iowa, and raised in Colorado.