Most disapprove of pope's handling of abuse scandal, poll finds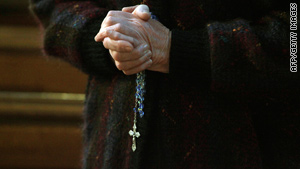 Only 35 percent of Americans have a favorable view of the pope. a poll found.
STORY HIGHLIGHTS
59 percent of American Catholics polled have favorable view of pope
But 56 percent disapprove of how he has dealt with abuse reports
Allegations against church have piled up across Europe recently
Washington (CNN) -- Most Americans -- and most American Catholics -- think Pope Benedict XVI has done a bad job of dealing with the problem of sexual abuse by Catholics priests, according to a new national poll.
CNN/Opinion Research Corp. survey results released Friday also indicate that recent revelations about that matter have hurt the pope's standing with the public.
Fifty-nine percent of American Catholics questioned in the poll have a favorable view of the pope, down 19 points from February. Among all Americans, the slippage is even greater: from 59 percent in February to just 35 percent today.
"Only a quarter of U.S. Catholics have an unfavorable view of the pope, but they don't seem satisfied with his track record on the growing and persistent scandal within the church," CNN Polling Director Keating Holland said.
According to the survey, 56 percent of U.S. Catholics disapprove of how Pope Benedict XVI has dealt with the problem of sexual abuse committed by priests; only about one in three Catholics has a positive view of how he has dealt with that subject. An even larger number -- 74 percent -- disapproves of how the church overall has handled that matter.
Pope Benedict XVI called for "penitence" Thursday for the church's "sins" amid the sex abuse scandal that has embroiled the Roman Catholic Church, according to Italy's official news agency.
Allegations against the church have piled up this year across Europe, including in Austria, Germany, Italy, the Netherlands, Spain and Switzerland.
Pope Benedict XVI has found himself tied to the crisis after news broke last month that 30 years ago, when he was an archbishop, he approved accommodations in his diocese for a priest accused of child sex abuse so the priest could undergo therapy.
The priest, who was not identified, was let go from church service in 2008, according to church officials in Germany.
The CNN/Opinion Research Corp. poll was conducted April 9-11, with 1,008 adult Americans questioned by telephone. The survey's overall sampling error is plus or minus 3 percentage points and plus or minus 6.5 percentage points for the 231 American Catholics questioned.
CNN Deputy Political Director Paul Steinhauser contributed to this report.