STORY HIGHLIGHTS
Kaley Shannon wanted to do more for Haiti than send donations from a cookie sale

She used Facebook, phone calls to organize "Student Hearts for Haiti" to help rebuild schools

More than a dozen schools have joined the effort, raising tens of thousands of dollars

LaGrange, Illinois (CNN) -- Kaley Shannon first saw the devastation in Haiti while watching the 5 o'clock news with her father.
Seeing so many people in need after the January 12 earthquake, the determined girl from the Chicago suburbs wanted to help.
"When I saw those pictures, I realized those kids in Haiti didn't have a future unless someone would help them," said Shannon, 14. "I knew I had to be that someone."
Shannon, who is active in her school's theater, says she got some inspiration from Hollywood.
"Brad Pitt builds houses in New Orleans, Angelina Jolie adopts kids from other countries -- that selflessness inspires me. I wanted to give people hope like they do," she said.
Her goal was to raise $90,000 by this week, which marks 90 days since the earthquake. But to do that, she had to act quickly.
She immediately called her friends at her church youth group, who were eager to help. They started brainstorming.
"We had ideas coming out in every direction," she said.
With Valentine's Day approaching, the group decided to bake heart-shaped cookies and sell them to make money for the quake survivors. They also settled on a name for their group: Student Hearts for Haiti.
"I'm not the best baker in the world, but we were determined," Shannon said.
With the help of their church's industrial-sized oven, the teens baked 2,000 cookies, selling them to people heading to and from the train stations in the Chicago suburb of LaGrange.
"I'm absolutely not a morning person, and it was freezing, but we knew our mission was urgent," Shannon said.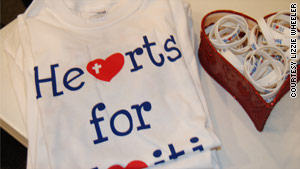 Students spent their recess time coordinating how to sell T-shirts and wristbands.
The cookies were a huge hit. Commuters gobbled them up. Even people trying to stick to a diet would drop in their change.
By the end of the first day, Student Hearts for Haiti had made $3,200.
They sold the remaining cookies at Shannon's father's office in downtown Chicago. There, a UPS delivery man decided to buy 10 bags of cookies. He told Shannon he was from Haiti. His mother still lived there, running an orphanage that was badly damaged.
"He gave me the biggest bear hug and told me how proud he was that I was helping," Shannon said. "That gave me an idea."
The group sent the donations from the cookie sales to the Red Cross and Mercy Corps for immediate relief. But if her kid-run organization wanted to continue, Shannon thought, it should provide a way for kids in the Chicago area to directly help the kids in Haiti.
"I thought after we all saw what we did on TV, other kids in my area would want to help," she said. "Student Hearts for Haiti could give them the tools to do that."
So with her father's help, Shannon set up a Facebook page and started calling local schools. They also partnered with Free the Children, based in Toronto, Ontario, to rebuild a school in Haiti.
Other fundraising ideas came pouring through the Facebook page: A boy whose father ran a wristband factory donated "Hearts for Haiti" wristbands. Shannon's high school, Lyons Township, donated the proceeds from its King of Hearts dance. Another boy turned his 15th birthday party into a fundraiser. Local merchants in LaGrange and Western Springs put out donations buckets, and so did many of Shannon's teachers.
And 12 local schools started their own efforts. One of those schools was Mary Grace Chizewski's.
We had ideas coming out in every direction.
--Kaley Shannon, Student Hearts for Haiti
Chizewski, 12, had also been affected by the images of suffering in Haiti. Shortly after the quake, she had reached out to her friends at St. Francis Xavier, and they approached the school's principal to ask if they could help.
"These kids in Haiti had lost everything. I thought, 'How are they going to succeed in life if they don't have a school?' " Chizewski said. "We hear all the time at our own school that we should help others when they are in need -- I thought here's our chance."
While sympathetic, the principal told them the school was already committed to several service projects. She wasn't sure if there'd be time.
But a couple of days later, the principal got a call from Shannon's father, who convinced her to help Student Hearts for Haiti.
"I was so excited when the principal called to ask if I was still interested in helping raise money for Haiti," Chizewski said.
Shannon's father gave the St. Francis Xavier students T-shirts and wristbands, and Chizewski and her friends spent the next recess planning how to sell the donated items.
They put posters up on every floor and used the morning announcements to ask students to help. The group kept a big heart poster in the main office to track their progress. They'd color in a little more each time they'd raise $500. When the heart was full, the principal let the whole school know with an announcement on the PA system.
On the school's dress-down day, students wore their Hearts for Haiti T-shirts and wristbands.
"It was so cool to see all those kids in the halls wearing our T-shirts," Chizewski said. "I'd never done anything like this before."
In the end, the 672-student school generated more than $5,500. That amount was doubled when Student Hearts for Haiti got a matching grant, which meant that St. Francis Xavier's effort was enough to build and furnish one classroom in Haiti.
With the matching grant from the Moyer Foundation, which was founded by Philadelphia Phillies pitcher Jamie Moyer and his wife, Karen, the group has raised more than $80,000 so far.
Shannon says she still hopes to reach her goal of $90,000, and after that, she has no plans to stop there.
"I want to rebuild as many schools as we can," Shannon said. "We've had rival schools helping; we've had kids from the public schools and the Catholic schools, kids who don't normally talk to each other working together on this.
"I think this has helped kids realize it feels good to be a part of something bigger than just you."