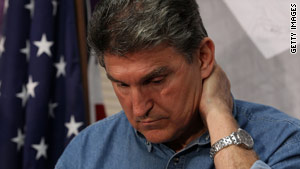 West Virginia Gov. Joe Manchin is asking mine operators to join miners in reviewing safety procedures Friday.
STORY HIGHLIGHTS
West Virginia Gov. Joe Manchin: "Safety is the first and foremost thing"
Friday will be day to honor the 29 miners who died in the Upper Big Branch Mine explosion
Manchin wants workers to report for duty, but spend day re-evaluating safety procedures
Mine owner Massey Energy said it approved of the move
(CNN) -- West Virginia Gov. Joe Manchin asked his state's miners to put down their tools on Friday and use the day to re-evaluate safety procedures rather than to produce coal.
"This is not a day off," he told reporters in a conference call from the capital city of Charleston. "We're asking for a day to honor every miner that has fallen, the 29 miners that we did lose."
Manchin made his plea nine days after an explosion in the Upper Big Branch Mine in Naoma killed 29 miners in the worst such accident in the United States since 1972, when 91 miners died in a fire at the Sunshine Mine in Kellogg, Idaho.
The governor said he was asking mine operators to join the miners in reviewing safety procedures "and for everyone to commit themselves to the safety of the workplace."
"Safety is the first and foremost thing," he said.
Manchin vowed to find the cause of the April 5 blast, but said he wanted to ensure safety procedures are followed while the investigation is being carried out. "We are taking this day to review all of our practices of safety and we're basically making sure that all of our practices are adequate and safe."
Mine owner Massey Energy said it approved of the move.
"We agree with the governor's request and believe it is an appropriate way to honor the miners we lost in the Upper Big Branch tragedy," the company said in a statement. "Massey will use this as an opportunity to reflect on the events of April 5 and will focus our attention on safety and training."
Headquartered in Richmond, Virginia, with operations in West Virginia, Kentucky and Virginia, Massey is the largest coal producer in Central Appalachia.
Rod Wooten, state mine safety director, said the Upper Big Branch Mine had been inspected on the day of the explosion, but at a different end of the miles-long facility.
Wooten said state mine officials met Tuesday with federal mine officials about the joint investigation and determined investigators would unlikely be able to enter the mine before the week of April 26.
The investigation itself will be painstaking, he predicted. "That will take months," he said. "This is an expansive area, it has to be mapped -- almost lump of coal by lump of coal."
Witnesses will be interviewed after the mine has been inspected unless the two elements of the investigation can be carried out simultaneously, he said.
Manchin stressed that any miner who feels that a workplace is dangerous "should be able to shut down an unsafe situation ... not just for themselves, but for everybody else in the mine."
The Upper Big Branch Mine is closed because of the explosion and will not be allowed to reopen until the investigation is complete "and we are assured that Massey Energy can effectively and successfully provide for the safety and health of those in the mine," Secretary of Labor Hilda L. Solis said Tuesday in a statement.
She and Mine Safety and Health Administrator Joseph A. Main are to meet Thursday with President Obama at the White House, where they are expected to deliver a preliminary report on the disaster along with any recommendations they may have to improve mine safety.
Manchin on Tuesday named a former head of the federal Mine Safety and Health Administration to lead the state probe into the explosion.
Davitt McAteer has overseen investigations into two previous mine accidents, the Sago disaster that killed 12 miners in 2006 and the fire that killed two workers at the Aracoma Alma No. 2 mine, a Massey subsidiary. The West Virginia native served as the Clinton administration's assistant labor secretary for mine safety in the 1990s and is vice president of Wheeling Jesuit University.
McAteer was critical of the Upper Big Branch mine's owner, Virginia-based Massey Energy, in the days following the blast, calling its safety record "checkered."
"Some companies, and this appears to be one, take the approach that these violations are simply a cost of doing business -- it's cheaper for us to mine in an unsafe way or in a way that risks people's lives than it is for us to comply with the statutes, comply with the laws," McAteer told CNN last week.
The West Virginia mine received more than 450 citations from federal inspectors last year, and more than 50 of those were for problems that the operators knew about but had not corrected, according to federal mine safety records.
Inspectors cited the operators more than 100 times in the first quarter of 2010, including six times for "unwarrantable failure" to correct violations.
Aracoma Coal pleaded guilty to 10 criminal charges and paid a record $4.2 million in fines and civil penalties in the January 2006 fire that McAteer investigated.
A review of the Upper Big Branch Mine's history of violations determined Monday night that a computer program error had led federal officials to undercount the number of citations at the Upper Big Branch Mine, she said.
"Specifically, the program was not counting final orders of unwarrantable citations in the 'unpaid and uncontested; first demand letter sent' category," she said.
The error was corrected and the data re-run, leading to a total of eight more citations in that category, she said.
"It is very likely" that MSHA would have informed mine owner Massey Energy in October that the mine could have been placed on a "potential pattern of violation list," she said.
But because the mine reduced its "significant and substantial violations" by nearly 65 percent between October and December, the mine would not have been in the "pattern of violation" status when the explosion occurred, she said.
"This computer programming error did not have an impact on this tragedy," she said.