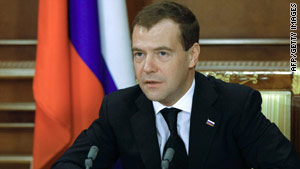 Russian President Dmitry Medvedev has called the return of an adopted boy by an American family a "monstrous" act.
STORY HIGHLIGHTS
Russian offficials threaten to halt all adoptions by U.S. families

Move comes after U.S. family sent adopted boy back alone to Russia, sparking outrage

Russian President Dmitry Medvedev reportedly called boy's return a "monstrous" act

State Department officials head to Moscow to urge Russians to continue adoptions

(CNN) -- Top officials from the U.S. State Department plan to travel to Moscow this week to push Russia to allow adoptions by U.S. families to continue.
The trip comes after a U.S. family sparked outrage by sending an adopted 7-year-old boy back to Russia alone. Officials in Moscow have threatened to halt all adoptions by U.S. families.
"We were certainly shocked, as was everybody, about the return of the child. We are hoping to work with the Russians to continue the adoptions of children," said Michael D. Kirby, principal deputy assistant for consular affairs.
"We have had over 50,000 children adopted from Russia. The vast majority are doing great here in the United States."
Families in the United States have adopted 14,079 children from Russia in the last five years, including 1,586 in 2009, according to the State Department.

Video: Russia upset over boy's return

Video: Adopted Russian boy sent packing

Video: Adopted and rejected

Video: Ranch for troubled adopted children
Russia is the third most popular country for U.S. families adopting children internationally, behind China and Ethiopia.
The family that returned the boy said he showed violent and psychotic behavior -- and that officials in Russia had given no warning.
"I am sorry to say that for the safety of my family, friends and myself I no longer wish to parent this child," Torry Hansen wrote in a note in the child's backpack.
She added that Russian orphanage workers "lied to and misled" her about the boy, Artyem, who was renamed Justin Artyem when the family adopted him last year.
In a phone call with CNN, Hansen's mother, Nancy Hansen, said the boy "had a hit list of people he wanted to hurt." No. 1 on that list: his American mom.
The final straw, the adoptive grandmother said, came last week when the family caught him trying to start a fire in the home.
Russian President Dmitry Medvedev, in an interview with ABC News, called the boy's return a "monstrous" act.
Kirby, speaking to CNN's "American Morning," said, "We have to talk about how we can follow up after the children are adopted. First, are the parents properly screened in the process? Are the agencies that are screening them doing all that they could do to ensure that they are prepared to be new parents?"
He added U.S. officials also must work with Russians "to make sure that the children themselves are also fully understanding what is going to happen to them as they move to a new country in a strange place."