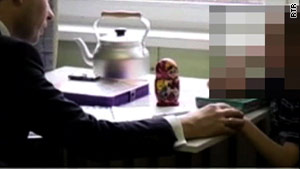 Justin Hansen was adopted from a Russian orphanage last year, according to his grandmother.
STORY HIGHLIGHTS
NEW: Future adoptions to U.S. are banned pending new treaty, foreign minister says
NEW: Russian official says grandmother's claim about child's treatment is "a lie"
7-year-old's adoptive family in U.S. sends him back to Russia
Child exhibited violent and psychotic behavior, according to grandmother
(CNN) -- A 7-year-old Russian boy adopted by an American family last year was put on a return flight to Moscow this week because of violent and psychotic behavior, according to a Tennessee grandmother.
The child showed up unannounced at Russia's child protection ministry Thursday, triggering an international investigation.
Russian Foreign Minister Sergey Lavrov told a Russian TV channel on Friday that his country has banned future adoptions by Americans until the United States signs a new agreement to regulate them.
U.S. diplomats have avoided such an agreement to set responsibilities for the adopting parents, Lavrov said, "but this latest incident has exhausted our patience."
"We are now investigating the circumstances of the boy's return to see if any crimes were committed," said U.S. Ambassador to Russia John Beyrle. "We are also in close contact with the Russian government on all aspects of the case, and we know that he is being well cared for."

Video: Adopted Boy Sent Packing
Nancy Hansen, the Tennessee woman who put Justin Hansen on the plane in Washington, insisted she did not abandon the child, but was following instructions from a lawyer she found online.
Hansen told CNN that she was concerned about her family's safety after a series of violent incidents and threats.
"I still have energy and I love children," Hansen said. "It wasn't that he was just energetic and wearing us down. It was the violent tendencies and he had to be watched at all time."
When her daughter, Torry Hansen, adopted the boy from a Russian orphanage last year, she asked the doctor there if he had any physical or mental problems, Nancy Hansen said.
The doctor answered "'He's healthy,' and turned and left," she said.
Once the child learned enough English, he told his new family about the horrors of his previous life, including being beaten at the orphanage after his mother abandoned him, she said.
He also told of an incident in which he burned down a building near the orphanage, she said.
Russian Children's Rights Commissioner Pavel Astakhov said the child was "completely healthy, physically and mentally" before the adoption.
"Nobody withheld anything from her [Torry Hansen]," he said. "It's a lie."
Justin told Russian officials he was abused by the American family, Astakhov said.
"There was a grandmother who was at home with the boys," he said. "She used to shout at [Justin] a lot. When I asked how the mother treated him he burst into tears and said she used to pull his hair."
Hansen said the child had a "hit list" of people he was targeting, including her daughter, who he said he "wanted to kill for the house." He threatened to kill her grandson for a videogame, she said.
The final incident that convinced Hansen she should send the boy back to Russia was when she caught him starting a fire with papers in his bedroom last Monday, she said. She feared the child might burn down the house and kill her family, she said.
Hansen and her family were set to meet with Bedford County, Tennessee, Sheriff Randall Boyce on Friday afternoon but their lawyer asked to reschedule the session for next week, a sheriff's spokeswoman said.
"I'm not sure there's been a crime committed," Boyce said earlier. He was asked by the U.S. State Department to investigate.
A State Department spokesman said the U.S. government was "very troubled" by the incident.
"As parents, my wife and I were deeply shocked by the news of Justin Hansen, and very angry that any family would act so callously toward a child that they had legally adopted," Ambassador Beyrle said.
Nancy Hansen outlined for CNN the process she followed after she decided Justin must go back to Russia.
When the lawyer she found online advised her the adoption could be reversed, Hansen booked the flight and paid the fee for a steward to escort Justin through the airport, she said.
She hired a driver in Moscow she found online to pick the child up from the Moscow airport, she said. She found "safe references" for the driver online, she said.
She then prepared a letter for Justin to present to Russian officials, which included a photo of the driver, whom she identified as "Arthur," she said.
Justin "had never been happier" than when he boarded the plane for Moscow, she said.
Russian child protection officials were not happy when the child arrived unannounced at their ministry Wednesday. Nancy Hansen said when they called her there was "a lot of yelling going on."
But Hansen said after the call she believed the matter was settled and the boy was safe, until she also got a call from the U.S. Embassy. They told her she had set off an "international incident."
The U.S. State Department spokesman on Friday said it was up to the Russian government to decide whether it will suspend adoptions by Americans because of the incident.
Ambassador Beyrle said cases of neglect are rare among the "tens of thousands of adopted Russian children who are living happily and lovingly with their American families."
"But even one incident like this is too many, and we will get to the bottom of what went wrong," he said.
The Seattle-based agency which Hansen said her daughter used to coordinate the adoption said it found out about Justin's return only Friday.
"We were alerted to this situation by our branch office in Moscow, Russia, and are shocked and saddened by this turn of events," said a spokeswoman for the World Association for Children and Parents.
In the 1 percent of the cases where the dissolution of an adoption has been needed, the agency "has always supported and worked closely with [adoptive] parents to assist the child in moving into a new adoptive family," she said.
CNN's Carolina Sanchez, Dave Alsup and Elise Labott contributed to this report.