STORY HIGHLIGHTS
A disaster in a mining community brings everyone together to support the miners

Military communities also come together in a crisis

CNN Defense Department producer sees similarities in two communities

Producer: The emotions, pain, the sense of a family that goes beyond blood relations are same

Naoma, West Virginia (CNN) -- The vague, familiar feeling began even before we arrived at the area of Monday's deadly mine explosion.
At least one church stood prominently in each little village along a two-lane asphalt roller coaster called Highway 3 from Beckley to the mine site. These are not the big mega-churches you see in the suburbs -- they're modest, even quaint.
In front of a red brick chapel in Arnett, two women were working on a sign out front. You've seen these signs -- the ones so many churches use to post inspirational messages from the pastor or perhaps the schedule for Sunday services.
Crista and Charlotte Dickens were changing the sign to read "God Bless Our Miners and Their Families."
Were you and your family affected by the blast? Share your story

I've never covered a mine disaster; I normally cover the Department of Defense for CNN. But when major news breaks, your usual job is often set aside.

Video: Rescuers pulled from mine again

Video: Recovery plan being put together

Video: Miners at crossroads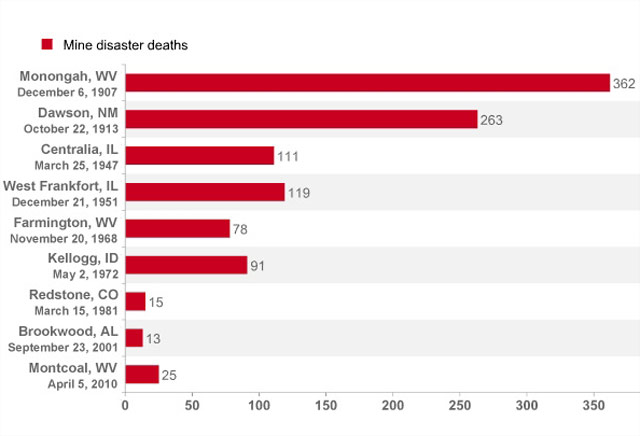 Chart: Mine disasters in the U.S.
But even in breaking-news events, there is time to talk to people between briefings, satellite shots and tape feeds. So I have been talking with the people of Naoma. Or maybe it's Sundial or Marsh Fork -- even the locals debate what to call this particular location along Highway 3.
But we do know the mailing address for the Marsh Fork Elementary School that has played host to more than 100 "media types" since the explosion in Naoma.
It's during those discussions that the familiar feeling kicks in. Talking to people in a coal mining community during a disaster is not all that different than talking to residents of towns such as Jacksonville, North Carolina, during a war.
Jacksonville is home to Camp Lejeune, one of the biggest U.S. military bases. Just about everybody there works for the Marines, is married to a Marine or depends on the Marine base for a job.
Just as everybody in towns such as Naoma depend on the mines, even if they've never donned a hard hat or steel-toed boots.
Of course, not everybody in military towns unfailingly support the wars, and not everybody in the coal fields of West Virginia agree about coal mining. There are debates about mine safety, unions, environmental impact of mining.
But just as military towns are full of signs that say, "God Bless Our Troops," a disaster in a mining community brings everyone together to support the miners.
I met one family who'd driven well over an hour to be here to support the Upper Big Bend South Mine victims and their families. They didn't know anyone in the mine, but mining is part of their lives, and they wanted to help any way they could.
We've met lots of families who want to help, and because they can't go in the mine, they can't drill bore holes, they cook. The people of West Virginia have fed those of us covering this story from the moment we put up the first camera light. We're told even more food is going to where the victims' families are gathered and to where emergency crews are waiting.
It's not unlike the veterans who wait at airports to greet returning troops. They don't have to know the troops to appreciate them, and sometimes a handshake or a salute is the best way to show it.
Another common thread is risk.
Obviously, soldiers die in war. Even in peacetime the rigorous military training claims many lives every year.
And mining is risky. Every miner I've spoken to is clear. They know the job can kill them. If it's not an explosion, it could be a cave-in. And if it's not a sudden disaster, the constant breathing of coal dust can cause potentially deadly lung diseases.
This is not to say the situations are identical. Miners do what they do for the pay. One 24-year-old miner I met makes more than $70,000 a year. I would bet there are no 24-year-olds in uniform in the U.S. military making $70,000 a year.
Sure service members sometimes sign up because the pay and benefits are better than they could get in their hometowns. But they know their risk is for a greater good -- defending their country, as opposed to boosting the profit margin of a company based hundreds of miles away.
There are other differences. Over the years, I've seen amazing logistical and technological efforts by the Department of Defense in response to a crisis. An earthquake hits Haiti -- in goes a fleet of Navy warships, whole units of Marines and airborne troopers and a steady stream of Air Force cargo jets full of food, water and people ready to help.
If the Army's trucks are vulnerable to enemy bombs, the Defense Department buys bigger, stronger trucks. If it costs a few billion dollars, it's worth it to protect the troops.
The same unlimited checkbook does not exist when four men are missing, possibly trapped alive in a mine full of dangerous gases.
The rescue coordinators here talk of bulldozers cutting a road up the side of the hill to get drills to the mountain above the mine or tanks of nitrogen to dissipate those dangerous gases.
Having been around the Pentagon for years, if a similar need arose in Afghanistan, I can easily imagine a 24-year-old captain calling in a Super Stallion heavy-lift helicopter to pick up the drilling rig or the nitrogen tanks and drop them on the mountaintop before his commander finishes his morning cup of coffee.
I asked Gov. Joe Manchin, who is commander in chief of the West Virginia National Guard, if any thought had been given to having the guard help out. He said he didn't think the guard could have responded as fast as the coal company's bulldozer drivers.
"They cut those roads pretty fast," Manchin said.
Over the years, after many wars and many flag-draped coffins, military communities have learned well how to come together in a crisis.
After yet another mine disaster in the heart of Appalachian coal country, I suspect those same hard lessons are being learned again in the homes and churches along Highway 3.
Whether the church signs ask God to bless "our miners" or "our troops," the emotions, the pain, the sense of a family that goes beyond blood relations are the same.
All that's missing on Highway 3 in southern West Virginia this week are yellow ribbons.